Wavylook Wireless Curler more than 50% Discount Code: JASION68688,Thank you for liking the product!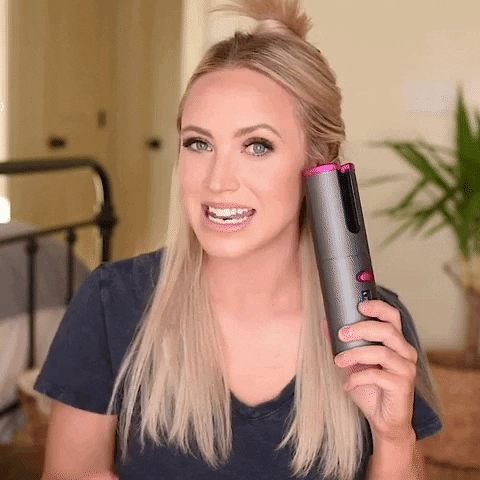 What is wavy look wireless curler?

This wavy look wireless curler is the latest version . No tricks required! All you have to do is put in some hair, press and hold the side button until it beeps, then repeat. The built-in smart sensor system prevents hair tangles and automatically reverses and stops working when too much hair is placed or incorrectly.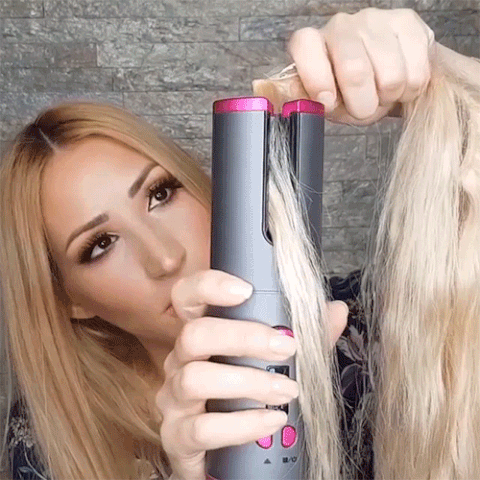 【6 Temperature Setting and Auto Timer】
Wavy curler offers a wide range of temperatures from 300℉- 390℉ to accommodate different hair textures and produce miracles even for coarse and hard hair. The built-in automatic timer allows you to choose the right time to create curls and waves from tight to loose. You also have the freedom to set the direction of the curl (to the left or to the right). Easily customize different hairstyles with this wavy look wireless curler!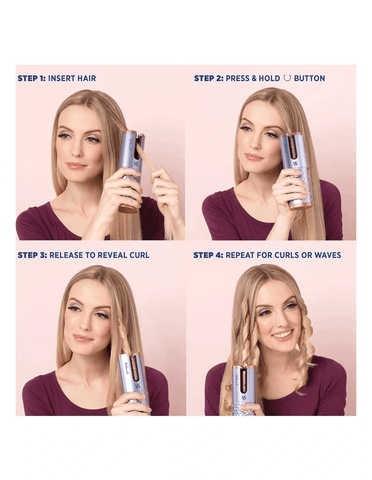 [Ionic ceramic technology protects your hair]
This wavy hair curler uses nano silver, ceramic coating and tourmaline to protect hair from static electricity and heat. Quickly heats up and releases additional ionic treatments to minimize hair damage. The unique insulated chamber ensures there is no risk of burning your forehead or fingers. Come get shiny, bouncy curls!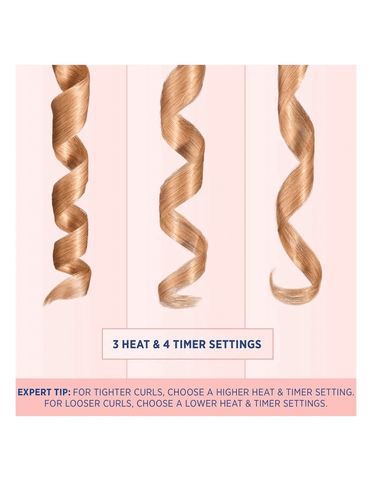 【Wireless design and auto shutdown protection】
Our wavy curling iron is portable and exquisite. Equipped with 5200mAh rechargeable battery, it can run cordlessly for up to 45 minutes after 3-4 hours of full charge. Note: Running time will vary depending on heat and timer settings and hair type. 10 minutes without any operation detected will automatically shut down for maximum safety and stress-free operation.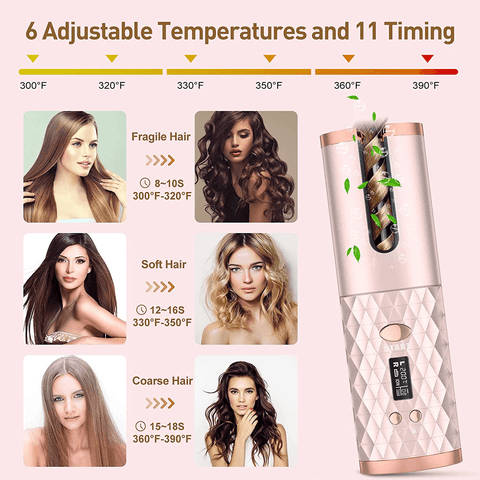 【Compact and portable curlers for wavy hair】
Cordless and portable design, this wavy look wireless curler won't take up much storage space, no need to find an outlet before use, it can also be used as a mobile power source in case of emergency, perfect for travel and gift giving. With just one button, you can automatically create beautiful curls or waves anytime, anywhere.  If there is any problem with this wavy hair curler, please feel free to contact us, we will solve it promptly and handle it properly.
====================================================
Wavylook Wireless Curler Questions and Reviews:
What length of hair is suitable when using this wavylook wireless curler? What size curls can it curl?
My friend's hair is down almost to her waist and it works great! Different heat settings produce different curls! Also depends on how long you hold your hair in the curler!
Can I put my wavylook wireless curling iron in my carry-on luggage?
Yes. I carried it in my carry-on four times last week with no problems. It's very small, easy to use, and it's rechargeable and cordless, which makes it even easier to use. It's perfect for me to travel with.
Can wavy look wireless curler be used on wet hair?
Not recommended as you should not use any hot irons on wet hair.
I have very fine hair, shoulder length, that is straight and lays flat to my head. This contraption is awesome! I get perfect curl and lift. Love it! It takes a bit of a learning curve to get use to it but after the second time using it; I can do it without looking.
Hair must be completely dry.
It takes about 15 minutes to do my thin, straight hair.
How long will the wavy looks curler stay on if I don't use it for a long time?
If I am using it, it will last about 60 minutes. If not charged, it will give me a day's worth of battery power.
How long does the wavylook curler take to do a full head of thick hair?
Curling a full head of thick hair with the wavylook curler takes less than 30 minutes (depending on the length of the hair - and the timer setting selected).
Absolutely loved this gift for my birthday! It's easy to use and I get so many compliments when I use this to fix my hair! I think it works great! You do need to charge it after each use if you have a ton of hair!
Does the wavelook wireless curling iron come with a warranty? 1 year
Does the wavy look hair curler work on short hair?
You need a section of hair at least long enough to get through the wavy look hair curler. i think it's at least an inch long.
Can I replace the battery in the wavy wireless curler?
The battery in the wavy wireless curler is a lithium-ion battery and therefore cannot be replaced. It is a rechargeable curling iron.
What is the actual barrel size of this wavylook wireless?
To 1-1/4 inches. You can choose different amounts of hair depending on the curl size.
Can the wavy look wireless curler be used like a cell phone when it is charging?
In the brochure you received with this curler, it very clearly states not to use it while it is charging.
Will my hair get stuck with the wavy look hair curler? Will my hair burn over time?
It never snags and curls very fast, so I only do it for 15 seconds and then take my hair out.
Can children operate wavylook curler?
This wavylook curler is very easy to operate. It can be operated with just one push of a button.  The handle is very comfortable to hold. The wavylook wireless curler is wrapped by an insulated cylinder. It is well designed.
Is this wavy looks curler loud?     No,  not noisy.
What are the optimal temperature and timer settings for hair when using the wavy wireless curler? Are the buttons to adjust the temperature and time complicated?
You need to adjust the timer and temperature according to the quality of your hair. For loose curly hair, you can use 8-11s at 150-170°C with good results. For other hair types, we recommend you to check the instruction manual.
I don't think it's very complicated. It has two setting buttons, one for adjusting the temperature/time/Celsius and one for adjusting their specific values. This can be done by looking at the instruction manual.
I have thick hair, can I use wavylook curler?
My hair is very fine and I can usually curl it in 13 minutes. But my sister has very dense hair, thicker than mine, and it takes her about 16 minutes to finish. This is very convenient for us and we recommend that you take a small piece of hair to process each time you curl.
=====================================================

 PACKAGE CONTENTS:
 1 x Curler Can - Portable Wireless Automatic Hair Curler
1 x Plastic comb
1 x Storage bag
1 x Instruction manual
2 x Hairpin
1 x Gloves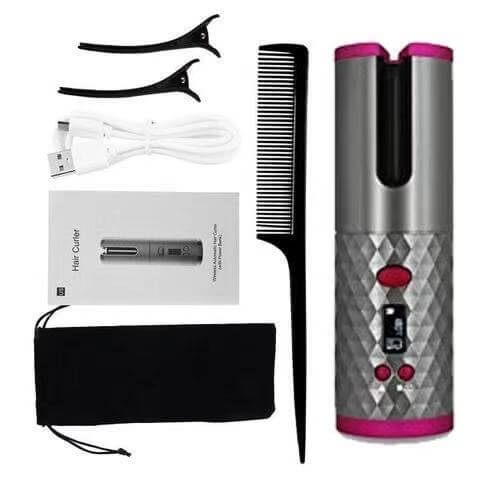 HIGH DEMAND- Most orders arrive in 10 to 18 business days.

SATISFACTION GUARANTEED- If something is wrong with your order, you can quickly contact our helpful customer support team to get a refund. 

Available online only. We ship Worldwide!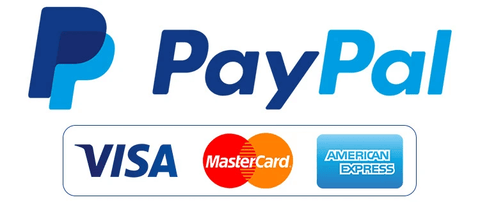 Hair curler cordless Free Famous Tiktok Cordless Automatic Hair Curler  Worldwide Shipping in 72 HOURS
Free shipping worldwide
Please allow 2-4 weeks for delivery to the United states 、Canada、 United kingdom、Australia、 New Zealand and all European union countries
Please allow 2-6 weeks for delivery to the rest of the world
Our gurantee
Tracking number for every order
Sale payments via paypal and stripe
24/7 assistance shop beautifulyou886@gmail.com
No hidden fees