Different Types Of Hair Curlers For Different Kind Of Hair
Almost every girl and boy is familiar with popular hair styling tools, but with different types of hair curlers on the market, it's easy to get overwhelmed. With so many options, it can be hard to know which curling iron is right for you. We contacted a few hair stylists who fully explained how to navigate the wonderful world of curling irons. Come and choose the curling iron that suits you according to your hair texture and length.
Do you know what hair curler types are available? Believe that many women who love beauty will have different kinds of curling irons at home, Next, we'll introduce you to the different curlers and how to use them.
1.Tik tok Heatless Hair Curler
2.Spiral No Heat Curlers
3.Tiktok Automatic Hair Curler
4.Hot Rollers
5..Foam Hair Curlers
6.Velcro Rollers
7.Steam Hair Rollers
8.Ceramic Curling Iron
9.Negative Ion Curling Iron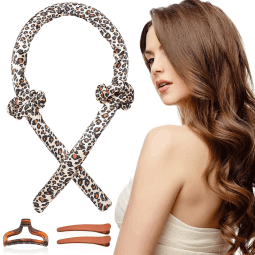 1、Heatless hair makes every lazy girl's dream come true. Tie the bathrobe tie around your head, plus there are many tiktok videos with heatless curls with socks. silk heatless curler will hang down from both sides of your ears. Then part your hair in the middle and use a comb to separate a small bundle of slightly longer hair, wrap your hair around the top of the silk heatless hair curler, twist it around until the bottom, secure it with a headband, and go to sleep. You are guaranteed to wake up the next day with your favorite curly hair. This heatless curling iron headband does not cause any discomfort while sleeping.
The heatless curls band will provide you with a new way to curl your hair. Without subjecting your hair to heat, you will create beautiful curls. Easily DIY your hairstyle without any electricity or heat and without causing any damage to your hair. Easy to use at home or take with you when you travel.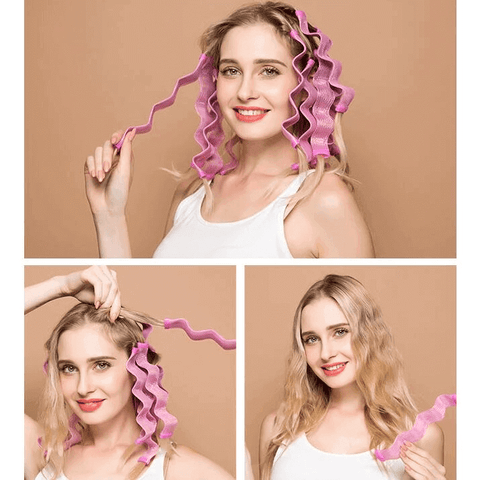 2、These spiral no heat curlers are very easy to handle, simply wet your hair and take a small section of hair, slide it onto the hook and then use the hook to pull the hair inside the curler and blow dry your hair. Pull hair inside spiral curlers with hook, squeeze and open the top and gently pull spiral curler. heatless curls spiral is a great alternative to heat styling products, does not damage hair and works on all hair types, even your wigs can be styled with it.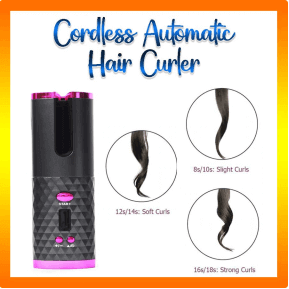 3、This is one of the Tiktok automatic hair curler that I think tiktok recommends and is worth buying because of its size which is perfect for putting in your bag or even in your car, whether you are traveling for business or pleasure in your luggage it won't take up too much space and is very easy to use, just put a strand of hair into the roller and press the button, the best part is that when it is done with your hair it will make a beeping sound to remind you so you can take it out.
Using this tiktok hair curler to do hair takes about 15-20 minutes, which also depends on the length of your hair to judge. This tiktok hair waver originally inside the device is 5000ah lithium battery, but some customers feedback every time after a full charge to do not finish a styling no power, so now this curler is using 5200ah lithium battery, each charge is about 3-5 hours.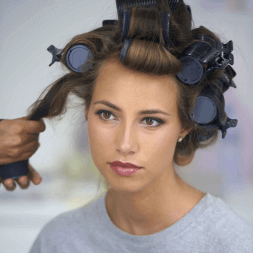 4、Hot rollers are available in different sizes, and the number of rollers in each set is different, so you can choose according to your needs. Even people who have thick hair can cover their entire head in these rollers. They are available in small, medium and large sizes, so you can change the size of your hair rollers as you wish. The best part is that the rollers heat up quickly and you can have perfect curls in five minutes.
The only downside to hot rollers is that you need a power source and the roller set can take up more space. I think hot rollers are an old-fashioned and outdated styling tool because I saw my grandmother use them when I was very young.
You need to leave your hair in the hot rollers for 12 minutes to cool down, although I saw results after 5 minutes. But to keep your hair long-lasting, leave it in for as many minutes as possible.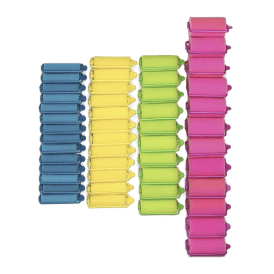 5、Foam hair curlers is a very affordable curling product, you can wear foam hair curlers on your head for a whole night, because the texture of the foam material is soft, you can wear it anywhere, if you want to spend the night on the rollers, do not roll them too tight, too tight to the scalp hair follicles damage. After a few uses you won't be able to live without it.
They can be used on wet hair, for wet and dry hair, you can also use it to make waves, retro curls, air bangs and other shapes for your bangs or ends. The soft sponge foam rollers are suitable for all hair types. The foam roller is made of foam sponge, which is soft and durable and easy to use for a long time. This foam hair curler is not heated, so it doesn't cause damage to your hair, is priced right, and doesn't take up much space for storage.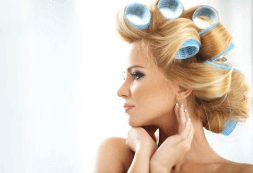 6、Velcro Rollers come with Velcro on the surface, so you can easily curl your hair and it won't come loose easily, without the need for additional clips that can be used. Very economical, Velcro Rollers are a good choice for people who are just starting to try curling their own hair. Also, because they come in a variety of sizes, they can be used to create loose waves and for air bangs. It is recommended to try using Velcro Rollers with the same tension to achieve an even look.
Velcro Rollers rely on small nylon filament-like hooks on the surface to hook the hair, so once the surface of the rollers is covered with hair, you can't continue rolling the hair. Velcro Rollers are better suited for dry hair that is already prepared with hairspray or other hair styling products. The purpose of this is to keep the hair style for a longer period of time.
Curling iron according to the different heating body can be divided into three categories, namely ceramic heating body, PTC heating body and heating wire heating body. The benefits of ceramic heating body is environmentally friendly, heating up fast, in 1 and a half minutes can reach 200 degrees, but the disadvantage is the use of ceramic heating body curlers, the overall cost of about 30% higher than PTC or heating wire.
According to the different kinds of hair curlers, divided into two kinds of straight wand and vertebral wand. Straight wand, that is, curling wand from top to bottom of the same diameter, the hair rolled up and down pattern and curling hair curls consistent. Tapered barrel curlers, you can roll the hair into different sizes of upper and lower wavy curls. Hair curl can be from small to large, or from large to small, hair changes a lot.
Hair curler types according to the use of points, can be divided into manual curling iron, semi-automatic curling iron, automatic curling iron three categories.
Note on the use of curling irons due to the heating components of the curling iron exposed, if you curl your own hair at home, by other people to help curling hair, try to avoid their own hair curling, not careful, easy to cause burns. If you operate yourself, be sure to choose a curling iron with clips, without clips of curling iron themselves not easy to operate. Use the clip to hold the end of the hair, slowly roll to the root, stay for twenty seconds after the release, the hair curl can be formed. Too much time can damage your hair. The use of automatic curlers can avoid the problem of burns, automatic curlers shell temperature generally does not exceed 60 degrees, and heat dissipation in a timely manner, the handle temperature is much lower. But pay attention to the rollers to the hair, so as not to use improperly torn hair.
Next, will introduce several types of hair curler machine for your understanding.
Hair curler types of Ceramic Curling Wand:
Ceramic curling wand is different from other cheaper iron models, its heating panel with ceramic treatment matte material, uniform heat and average curl, the temperature can also be controlled at a certain point, creating a more evenly elastic and curly shape, to avoid the shiny surface heating plate constantly heated and lead to uneven hot spots, the lack of force on the volume is not easy to pinch.
Hair curler types of Negative ion curling iron:
Negative ion curling iron can be said to be the evolution of the ceramic curling iron, it is coated with ceramic panel can be heated in the process of emitting hair protection function of negative ions, to enhance the role of hair humidity and brightness. Because of the remarkable hair care effect of the negative ion curling iron, it has now become a necessary curling tool for modern women.
Hair curler types of Steam curling iron
A steam curling iron is one that emits steam like a flat iron during use. Since the disulfide bond will be half open when the hair is wet, and the disulfide bond will affect the elasticity, shape and flow of the hair, the steam curling wand is used to disperse the right amount of steam to make the style faster and longer.
Types of curlers selection method-Whether to support straight and curly dual-use:
Currently on the market there are two functions of the curling iron, one is only for curly hair, there is a curling iron with a straight volume, so you can consider when picking their need for both functions at the same time, but generally speaking, there is still a straight volume dual-use curling iron more popular, after all, more features, the price difference is not much, more cost-effective.
Types of curlers selection method-Whether the material is of high quality
Curling iron material mainly involves two aspects: one is the material of the shell, the other is the material of the coating panel. For the shell material, we'd better pick a good quality insulated shell or plastic shell, so as to ensure that we use the safety issue, and do not go for iron material, not only hot hands, security performance is also low.
Then look at the material of the coating panel, high-quality coating panel surface have ceramic processing matte material, not only the use of safe, and the effect is also good, will not damage the hair, and the kind of glossy coating panel material of the curling iron heat conduction although fast, but easy to hurt the hair quality, scorched hair, it is recommended not to buy.
Types of curlers selection method-The speed of heating
The curling effect of the curling iron and curling iron temperature is closely related to the general quality of the curling iron in half a minute to achieve heating, that is, plugged into the electricity can curl, and the temperature can also reach 180 ° high temperature, to ensure that we can iron out the perfect hair. And which poor quality curling iron, its heating speed will be relatively slow, and curling effect will not be very good, not long enough.
Types of curlers selection method-The length of the power cord
The length of the power cord varies from curling iron to curling iron, and we still need a long power cord when using it will be more convenient. Like a high-quality curling iron can meet our multi-faceted needs, the power length of 1.5 meters, the operation is more convenient and comfortable.