Tiktok Hair Curler is a portable hair curler that allows you to create stunning curls easily and quickly in minutes. With a revolutionary design, it can easily bring you constant heat to make your hairstyle last longer. The lightweight design can be carried in the bag at any time, allowing you to make your hairstyle curly and beautiful anytime, anywhere.
Curling shoulder length hair instantly and anywhere without much effort with tiktok hair curler! Only need 5 minutes.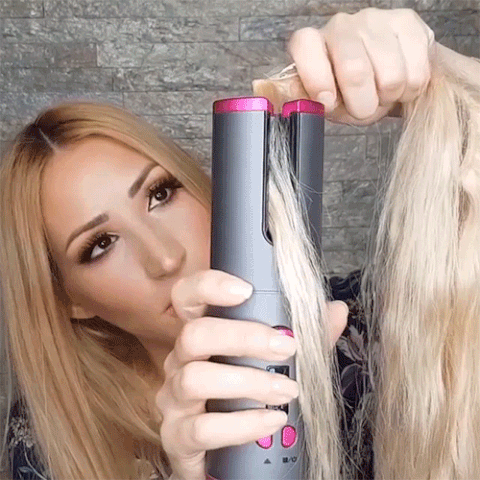 The latest tiktok hair curler, say goodbye to the messy and tangled cable design. Without cable restraints, you can curl your hair anywhere with this hair curler cordless.The cordless auto curler uses latest intelligent induction motor for superior performance and well defined curls, which will never pull or tangle your hair.
Would you love to wake up every morning and spend less time on beautiful waves and curls? Are you always running late or "on the go" yet still want to create "Party curls" with charming style?  This tiktok curler is the right hair styling tool for you.

Tik tok hair curler can offers fast and wireless operation. Its automatic technology allows you to wrap around your hair and create curls automatically in as fast as 8 seconds. With its built-in rechargeable battery, you can get instant curls anytime, anywhere without searching for power outlet. It's a perfect replacement for traditional curling irons.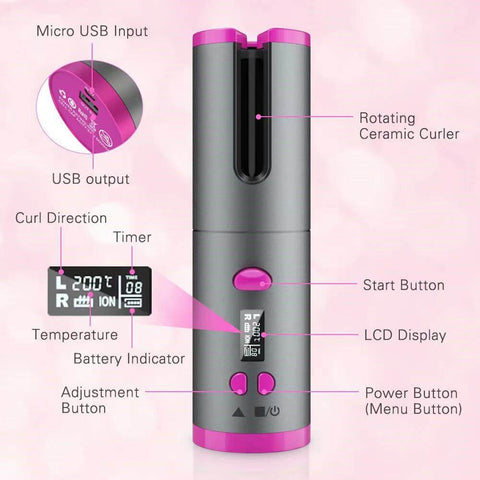 Tiktok Hair Curler uses a heat-sensitive power supply, which can transmit heat to your hair in time, making the hairstyle more durable. It also has an adjustable temperature and time control that adjusts the temperature and time for perfect curls. In addition, Tiktok Hair Curler also has an anti-scald protection function, which can effectively protect your hair and make it healthier. The design of the 360-degree rotating line can make it easier for you to complete the curly hairstyle. Tiktok Hair Curler is a very practical hairstyle tool that allows you to create stunning curls easily and quickly, making your hairstyle even more outstanding.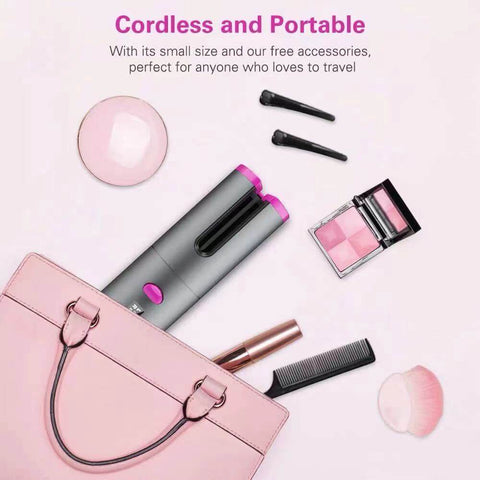 Tik tok curling iron is easy Use & Portable - The barrel will auto-spin around and wrap section of hair into the curling chamber. Easy to carry when traveling, can curl your hair anytime and anywhere, far away from the trouble with the line.

Automatic hair curler tiktok is intelligent Heat Control - Features 6 adjustable low heat settings with a maximum of 200 degrees, combined with 6 timer settings to avoid damaging your hair, even if it's fine, fragile, or color-treated.
Tiktok hair curler is Rechargeable - 5200mAh Li-ion rechargeable battery provides extremely freedom to create your own hairstyle anytime. One single full USB charging offers 60 minutes of working time.

Wireless hair curler tiktok is smart & Safe - Unique anti-scald design & automatic reverse rotation to help avoid any tangled hair problems. It's also energy-efficient. It'll shut off automatically after 10 minutes of no use.

Cordless Hair curler  is  with LCD Display - Large LED display presents clear temperature, direction, and timer, it presents more readable and convenient use.

Two-Way Rotation - With the latest two-way rotation technology, you only need to set the direction of rotation and put the hair in to create a perfect curl. 
Everyone Can Be An Expert - Suitable for different hair textures, with different temperatures and timers, you can create different waves and styles.
Place 0.4-0.79 inch wide hair into the tiktok hair curler and it automatically rolls into the wand, gently wrapping and heating from all sides for perfect curls; if you put too much hair in the barrel, it automatically stops and twists the tangles.
Tiktok curlers is a hairstyle style started by a video on the social media site TikTok, based on a technique created by hairstylists to twist hair together by using a curling iron or curling iron to create or enhance natural curls hairstyle effect. This hairstyling technique can be used to create a variety of different hairstyles, from monofilament strands to voluminous curls, each of which can make a statement.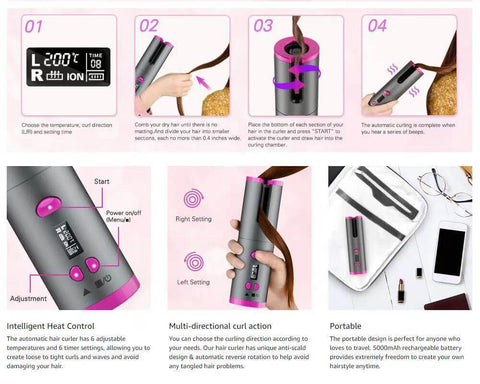 ===================================================
Tik tok heatless hair curler reviews from TIKTOK online celebrity and users:
heatless curls tiktok reviews from TIKTOK online celebrity ierlynn who has 661.3K followers:
Okay this tik tok heatless hair curler gets five stars from me over all. For the hand disabled party, the first time their own curly hair is very good to start with, the whole head quickly rolled up, don't worry about curly hair burning themselves. As for the problem of durability, it depends on the quality of my hair. The curl of my perm is shorter than that of others. I applied some elastin at the end of the curling this time, and there was still some curl the next night, but it was more natural than when I just finished curling.
Tiktok hair curler reviews from TIKTOK online celebrity zozoroe who has

7M

 followers:
I was so hoping it would work after watching a TIKTOK and this tiktok hair curler did!
It did take a little trial and error but, not much at all. Smaller sections is definitely key. Even with my long nearly to my waist hair it take less then 30minutes to curl which is amazing! It's always been an hour long process with arms feeling heavy and tired afterward. But, not with this little beauty I even curled my hair on the way to church yesterday, in the passenger seat of course. Only draw back I've found is you can't charge and curl at the same time but, not a biggy just plan ahead. And I haven't run out of charge yet while curling so no worries.
Tik tok heatless hair curler reviews from TIKTOK online celebrity mireyarios who has 4M followers:
This tiktok heatless curls is really wonderful. It's very easy to use. It's very easy to use for the first time. It's also very safe. The curling effect is very good. It's much better than other kinds of tik tok heatless hair curlers. The time is very short. The wireless charging is convenient to carry. It's easy to use at home. It's not bound to use anywhere. I'm satisfied.
This tiktok curler Minimum heating 150 degrees, maximum temperature 200. The curling time and temperature mode are adjustable, these parameters are displayed on the screen. You can choose to twist the hair in the right and left side. I envy my hair at 150*5-6 seconds each strand, it turned out a light wave. If you add the temperature, the curls will turn out elastic and last longer. The work is as simple and safe as possible. The body does not heat up, it's impossible to burn. The Strand must be framed to the connector and press the button, the plait will do everything for you. Hair does not dig, does not tangle. recommend to buy!
Tiktok hair curler heatless reviews from user
Tiktok hair curler Easy, easy to control (the main thing is to adjust), does not burn hair due to ceramic coating 6 temperature modes (150-200 degrees), 6 time settings (8-18 seconds). Includes 2 clips, comb, charging wire. It is possible to charge from the phone (2 connectors)
=================================== 
Tiktok heatless curls are nothing new as tiktok becomes more popular these days, this heatless curler pictured simply wraps your hair around a silk headband, then stays for a while to remove it to get a mermaid Like waves, it's a quick, gentle way to curl your hair so you can easily achieve smooth, bouncy curls overnight.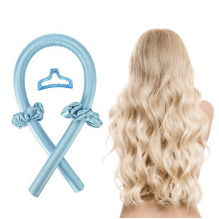 How does heatless curls tiktok work?
According to a senior chemist at the GH Beauty Lab, water destroys the hydrogen inside the hair, causing wet hair to lose its original shape; when the hair dries, the hydrogen reforms and locks in the new hair shape. That means it's easier to change the shape of your hair for styling when it's dry.
Heatless curls tiktok kits usually include a satin-wrapped foam curling iron and two satin hair ties, and the more expensive ones come with a claw clip to hold the hair in place. On wet or dry hair, place the ribbon on top of your head and secure it with a clip. Starting at the top, twist the hair around the ribbon to wrap, adding more little by little, then tie the ends to keep the hair from falling apart. Then you can get a good night's sleep, and over the course of the night, your mermaid waves will appear.
Do heatless curling irons really work?
The tik tok heatless hair curler has been reported by many testers to prove that tik tok heatless hair curler is indeed useful, its main feature is that it is gentler on the hair than traditional curlers, does not require pulling or heat, so it gives a more comfortable feeling. But our testers found it difficult to use on shorter hair, which didn't wrap around the bar completely, and the styling didn't last long. That's why they recommend using this heat-free curling iron more on fine, straight and longer hair.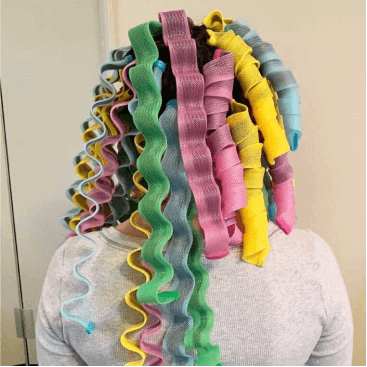 Another heat-free curling iron on Tiktok is the Long Silicone Tube for curling hair without heat, containing 35 long, brightly colored silicone tubes and a hook to hold your hair. This spiral and wavy heatless curling iron is available in different sizes, so you can try this heatless curling iron for different lengths of hair, even wigs.
How i use this tiktok hair curler
I use a spray bottle to wet hair layer by layer. If your hair is difficult to manage, I suggest you use a better spray bottle. I was too excited when I used it for the first time and didn't fully wet my hair, resulting in frizz. Very bland and had to start over. Place an inch of hair inside the hook near the base of the scalp, pulling the hook towards the top of the head and pulling the other end into the curling iron. Remove the hook and the curling iron will spring back to its original shape, but your hair will be trapped inside so it can be set.
Make sure the hair is completely dry before removing the heatless curling iron. It is difficult to tell whether the hair is completely dry through thick fabrics. You can use a blow dryer to speed up the process. . My method of removing the heatless curling iron is also very simple, just pinch the tube at the root of the hair and gently slide the curler down.
Hairspray is recommended to lock in the style as it will turn into very loose curls within a few hours after styling, but the curls will last longer without a shower.
=================================== 
PACKAGE CONTENTS:

1 x Curler Can - Portable Wireless Automatic Hair Curler
1 x Plastic comb
1 x Storage bag
1 x Instruction manual
2 x Hairpin
1 x Gloves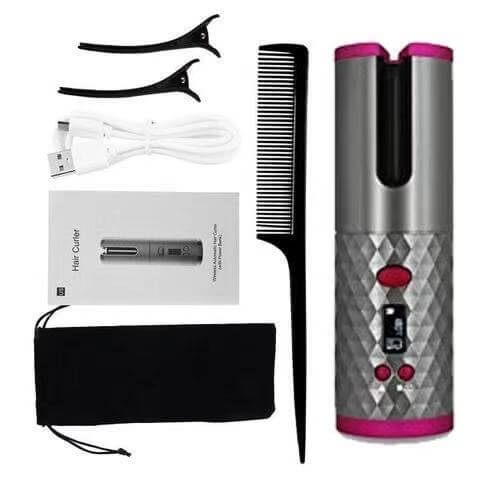 HIGH DEMAND- Most orders arrive in 10 to 18 business days.

SATISFACTION GUARANTEED- If something is wrong with your order, you can quickly contact our helpful customer support team to get a refund. 

Available online only. We ship Worldwide!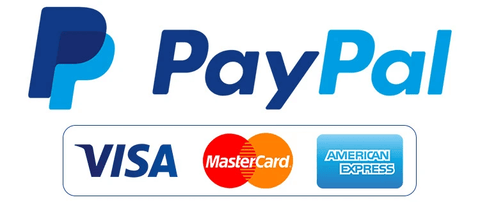 Hair curler cordless Free Famous Tiktok Cordless Automatic Hair Curler  Worldwide Shipping in 72 HOURS
Free shipping worldwide
Please allow 2-4 weeks for delivery to the United states 、Canada、 United kingdom、Australia、 New Zealand and all European union countries
Please allow 2-6 weeks for delivery to the rest of the world
Our gurantee
Tracking number for every order
Sale payments via paypal and stripe
24/7 assistance shop beautifulyou886@gmail.com
No hidden fees