Best Automatic Hair Curler And Reviews 2023
The best auto hair curler is like a magician that can turn your messy hair into a new look within minutes. So whether you're going to a long-awaited office meeting or going all out for a party, these auto 360 hair curlers are sure to come in handy.

The automatic curler machine makes all the work of curling hair easy, so it is becoming more and more popular among women who love beauty. With the increasing popularity of the instant hair curler machine, there are various kinds of instant hair curler machines in the market, so many friends do not know how to choose the best automatic curler for themselves, so let us introduce the best automatic hair curlers that are popular nowadays. The benefits and drawbacks of automatic hair curlers.
1. BaBylissPRO Nano Titanium Professional Curl Machine

Priced at $99 on Amazon, MiraCurl's top-of-the-line automatic curling iron is awesome because the small tank holds water for dozens of full curls, and it creates perfect ringlets in 4-8 seconds. There are 3-way curl controls so you can create tight, even curls or looser, free-flowing waves.

A lot of customer feedback inside MiraCurl auto hair curler reviews: While many ladies with long hair love this curler, the machine froze until the end. It would not release my hair, so I unplugged it so as not to burn my hair. There was no way to pour the hair out and I was freaking out. I went to my neighbor for help and no one could get my hair out. We had to take the machine apart and unscrew everything to try to get my hair out. Fortunately, I didn't lose any large chunks of hair. I assume that if you have shorter hair you can release it more easily, but I would still be wary of this machine. Obviously ladies with long thick hair still need to put this curling machine to the test again.

Also some of my friends say this auto-rotating cordless curling machine is overpriced because the $19 cordless usb curler at Walmart works better than this one, so I suggest you buy rationally according to your needs.
2.InStyler MAX 2-Way Rotating Tourmaline Ceramic Straightener and Styler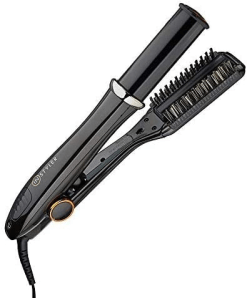 Max 2-Way Revolving 1.25" Iron provides maximum straightening, straightens, curls, eliminates frizz, smoothes and adds shine for all hair types, but is best suited for anyone with medium density strands to thick, coarse hair. Tourmaline ceramic barrels evenly distribute heat to help prevent damage while ionic bristles reduce frizz and polish hair for a vibrant finish. Four heat options are available: 285°F, 315°F, 385°F and 425°F. And it has an auto-off feature and a 30-second quick heat setting.

The downside I noticed is the thick handle - which can make styling a chore. Also this auto twist hair curler is not suitable for thin and soft hair.

But some users commented that it is not as good as the original InStyler. This best automatic hair curler doesn't have enough grip to hold the hair around the brush. I hate the rotating cylinder, I can easily turn my hand and let my hair curl as I want; rolling the brush just makes it messy - you study its direction so you don't let it turn in the wrong direction and thus mess up the curl, and I often let it go in the wrong direction. InStyler sells it on their actual website This iron is recommended to buy directly from them rather than from a third party seller.
3、 Prizm Professional Rotating Curling Iron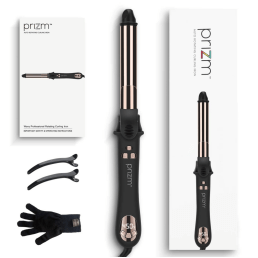 This Prizm Professional Rotating Curling Iron Amazon sells for $89. One of his features is the use of a titanium nano barrel. This produces negative ions so it keeps hair smooth and healthy even when heat styling, making it look very shiny and softer. The quick heat and adjustable temperature feature heats up to 450°F in just 35 seconds, helping you achieve your curls quickly.

The best cordless automatic hair curler is made of premium heat resistant material with free insulated gloves to protect your hands from burns. Its 60-minute automatic shut-off feature will give you peace of mind when you leave and go after use.

But some of our fellow buyers have complained that the auto rotating curler clip is only about 1 inch long and can hold a very small amount of hair. For very thick hair, it takes a long time to set the style with it. Also, the end is too small to prevent your fingers from getting burned.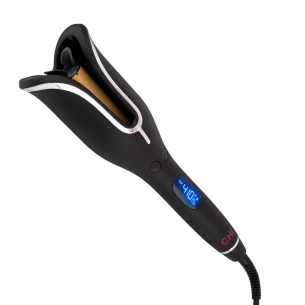 CHI Hair Curler is currently available at Amazon for $84.99. I must say that this chi rotating curling iron is unique in design, with its beautiful shape and five colors to choose from: red, black, white, blue and green. This spin and curl curling iron is an amazing contender among many curling products. With the click of a button, it has adjustable temperature settings to suit all hair types for a range of temperature needs.

It has a beeping alarm so you don't have to worry about overheating and burning your hair. It sets the time to pull the hair into its curl chamber until the hair is curled. All this spin and curl curling iron won't cause heat damage to your hair!

My only complaint is the design of the product itself, it is aesthetically pleasing but because of the large curling chamber, the chi lava hair curler is better suited for people with long hair. Ladies with short hair will not find it easy to create curls with this curler.

This chi air n spin curler has over ten thousand sales on Amazon, most buyers complain about spending too much time researching how to use it, but it is not suitable for long and thick hair. you have to use very small part of your hair at a time, Curls does not last You have to use very small part of your hair at a time, Curls does not last longer, but this chi curling tool should be a good performer, otherwise how can there be more than ten thousand reviews.
5.Kiss Instawave Automatic Ceramic Curling Iron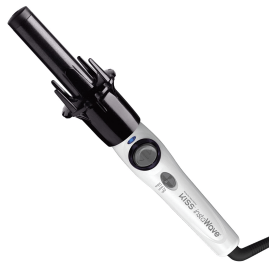 If you're looking for a best automatic hair curler for fine hair that's not too expensive and doesn't curl too badly, then it's recommended that you take a look at , this hair curler automatic roller for those who often struggle with styling their hair or those who don't like traditional curlers.
Kiss InstaWave has both low and high heat options, and the brand's promoters say the product is suitable for most hair types, and according to Amazon self curling iron reviews is best for people with long, thick hair. Wrap the hair section around the ceramic wand and let the best hair curler automatically rotate to do the rest. The Kiss Instawave 101 beeps when the hair has been curled and shaped, a feature that is really great for people who are inexperienced with using curling irons for the first time.
The Kiss Instawave 101 has a unique patented curling disc with spikes/ridges that comb through every part of the hair for an even curl.
Even though I think this best cordless auto curler is very good, there are some drawbacks according to the reviews. It is a heavier curler than typical curlers. The second curl that comes out with this curler is looser, which means that you must use a setting spray immediately after curling your hair. Otherwise, the curls will not last very long.
6.Nertpow Cordless Automatic Hair Curler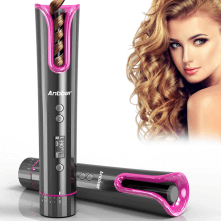 This automatic hair curler machine is wireless! This curler is wireless allows you to style your hair however you want without being tied to an outlet. The design is very simple and convenient, a large curling tube to put your hair into, and with the push of a button, your hair is instantly curled! It also has a high-capacity battery and USB-C charging capabilities. It also has a high-capacity battery and USB-C charging capability. It can be used continuously for one hour, while ordinary curling irons require at least three hours to be fully charged.
 
 The cordless auto rotating hair curler automatically heats from 300°F to 390°F and has 6 timer settings (8-18 seconds). You can set the number of seconds with the long/short button, set the temperature by rotating the bottom, and choose whether to curl to the left or right. And the curler has a memory function that automatically saves your last setting.
 
But a user review on Amazon: After charging overnight, I used it for 30 minutes and it lost its charge. Other than that I love this curling iron, I just don't I just don't have time in my busy day to keep on charging. So the battery is still something that needs to be improved!
7.Conair Unbound Cordless Auto Curler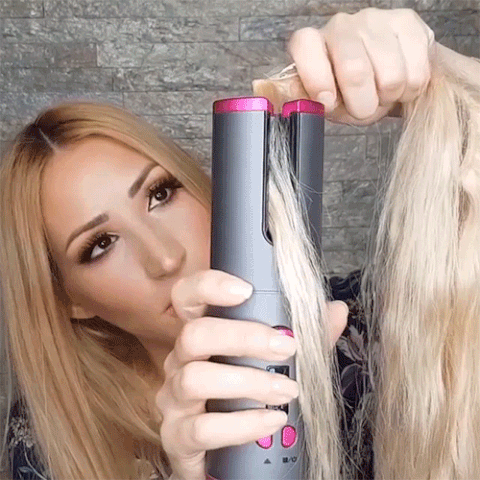 With over 5,000 reviews on Amazon for $67.99, the Conair Unbound Cordless Automatic Hair Curler is clearly a top seller. This portable automatic hair curler offers up to 60 minutes of cordless runtime on a 3-hour charge. Its anti-tangle protection technology ensures that hair does not get tangled. The curler heats up to 400°F and comes with 3 heat settings and 4 preset timer settings. wireless rechargeable automatic hair curler's compact design and cordless design is perfect for people who travel a lot or love to travel.

Thisstawave automatic rotating curling iron is certainly an excellent choice for a woman who lives a busy life but strives for perfection. In my opinion, it is a very suitable product, but I would not recommend it as your main styling tool.
Because there are still a lot of complaints in the best auto curlers reviews about the relatively high price of this, people who can't use it or use it for the first time will get their hair tangled and stuck in the curler. It won't release, so you have to pull the hair to get it out, which ends up breaking multiple strands of hair.
8.IVI Automatic Tourmaline Ceramic Hair Curling Iron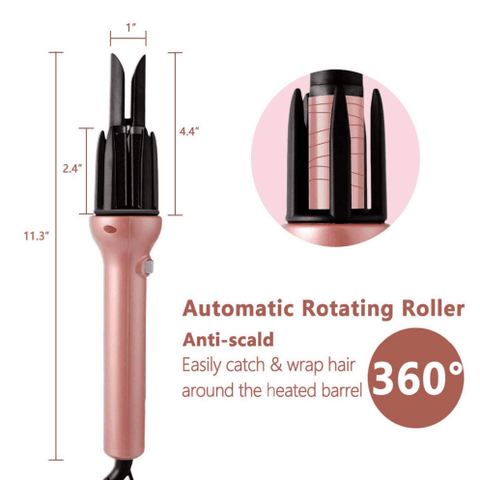 The IVI Automatic Tourmaline Ceramic Hair Curling Iron is available at Amazon for $38.99, which is quite a beautiful price compared to other top rated automatic hair curlers, so let's look at his features next. The ceramic mini curling iron comes with a comb and storage pouch, and it's designed to be only 10 inches in size so it won't take up too much space in your suitcase.
 
The IVI curling iron heats up quickly and sets hair quickly. Tourmaline ceramic and dual PTC heat dissipation will leave hair soft and shiny. For this best ceramic mini hair curler is recommended for women with long hair, not for women with short hair. Most of the reviews on Amazon say that this curler is easy to use and you can make your favorite look in the first operation. And it does not take much time, especially because its price is also very affordable, like friends can try.
what is the best automatic hair curler :
The best automatic hair curler is a handheld electronic product used to curl hair. Its main components are a handle and a heating roller. The heating roller is made of tourmaline ceramic panel, which can evenly disperse the heat, circulate heating, improve the hair protein structure and produce bending, and protect the hair during the curling process.
 In the 1830s, best automatic hair curler have become popular all over the world.
In 1859, American housewife Pressey invented a curling iron composed of a handle and a heating element in order to help children make hair. In 1861, American entrepreneur David Salinger purchased this technology and perfected it, creating the world's first professional electric best automatic curling iron.
what is the best automatic hair curler for long hair
Best automatic hair curler is a collection of multiple functions. It not only has the curling function, but also protects and nourishes the hair while perming. It has the functions of negative ions and steam, which can better protect the hair and no longer be rough. Use an automatic curling iron to do long hair styling, so that the curls are romantic and elegant.
The styling that best automatic hair curler can do
Curly hair can be divided into inner curls and outer curls. Inward curl: The curl looks more subtle, and the overall temperament makes the face look softer.
Outer volume: The shape looks more lively. Traditional hair curlers are not easy to design, while automatic hair curlers have three classic hairstyles: natural waves, soft curls, and fashionable and charming, and a variety of DIY combinations.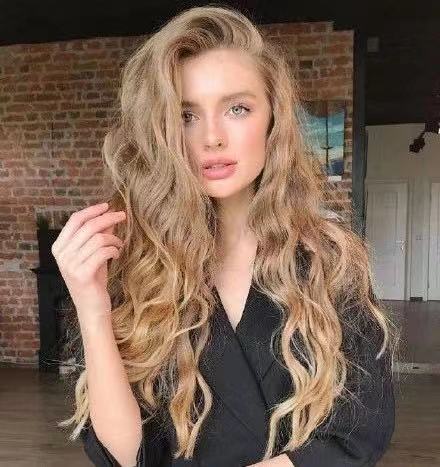 Are best automatic curling irons suitable for all hair types?
Nowadays, there are many types of curling irons that can cater to different hair types. Your choice of curling irons depends on your hair type-wavy, straight, curly, thick or fine. Another consideration is whether your hair is short, long, or medium-length.
The third basis for choosing is the type of curls you want to get from the curling iron-big waves, small curls, messy curls or beach waves.
What kind of automatic curling iron is good
About material:
Girls who have used straight clamps or automatic curling irons know that you must choose a ceramic panel, which can not only heat the hair evenly, but also reduce the damage.
Avout size:
Girls who have bought curling irons must know that automatic curling irons come in different sizes, 24mm, 26mm, 32mm... all kinds of sizes. But if you want to curl up a good-looking hairstyle, do you really need one for each style and one set?
Of course not! As long as you control the temperature and the angle of the curling iron, a 26mm curling iron can handle all kinds of hairstyles.
What is the difference between a automatic curling iron and a curling machine
automatic curling iron
When using the automatic curling iron, you must manually wrap your hair around the heating rod.
Hold it in place until the crimp is ready.
The tricky thing about these curlers is that high temperatures can damage or even burn your hair.
curling machine
Insert a strand of hair into the curling room.
After a few seconds, it will automatically release your newly curly hair.
This can be time consuming because it curls a small strand at a time.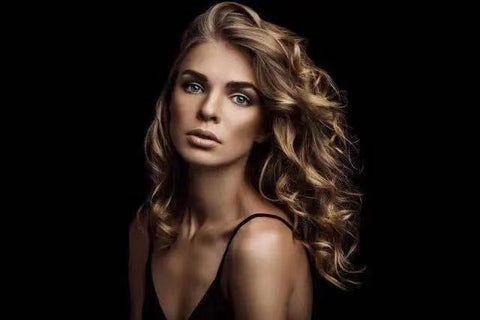 Features of the best automatic hair curler
There must be a faster player in the best curling irons. If you started heating up 30 seconds ago, bingo, you got it right.
The size of the curling iron is one of the important components of the automatic curling function: whether you like to make loose curls or tight hair, the size of the curling iron will help you create magic.
Choose an automatic curling iron model that is safe for hair, such as ceramic technology.
Always have multiple heating settings; it is safe for customized hair styling.
The rotating rope should be long enough.
Curling irons must have safety functions such as heat protection, safety locks, and timers.
Recommend this tiktok curling iron for you