Many beauty lovers are asking is there a battery powered curling iron? The answer is yes, because the battery operated curling wand can not only make your own styling anytime, anywhere, but also is easy to carry. It can be placed in a bag or on the car to solve styling troubles anytime, anywhere.
Battery operated mini curling iron is a new type of rechargeable hairdressing equipment, which can help us quickly complete the styling, and it is the development trend of beauty makeup in the future. The battery operated curling wand makes hair fuller and more bouncy, especially for those who want to achieve volume, softness and bouncy hair. battery powered curling iron is definitely the best choice.
The battery operated curling iron is a hair tool specially designed for curly hair, with automatic temperature control, allowing you to style curls safely, easily and quickly. The battery operated curling wand is mainly composed of power cord, hair clip, curler head and temperature controller, which can be adjusted according to actual needs. Users can control different shapes by setting different temperature and time.
Thanks to the emergence of battery powered curling iron, we can realize our dream of styling in 5 minutes on the way to work. The battery curling iron is a high performance, wireless, rechargeable automatic curling iron that doesn't require a power outlet. Your hair is automatically sucked into the ceramic curling chamber and it heats up in seconds! All you have to do is press the start button and wait for it to finish.
Would you love to wake up every morning and spend less time on beautiful waves and curls? Are you always running late or "on the go" yet still want to create "Party curls" with charming style?  This  rechargeable curling iron is the right hair styling tool for you.
Battery operated hair curling iron is composed of generators, capacitors, rectifiers and controllers. The generator converts the energy inside the engine into electrical energy, the capacitor buffers and stores the electrical energy, the rectifier adjusts the voltage to the required voltage, and the controller controls the operation of all components.
Many celebrities are recommending cordless rechargeable curling tongs, and those who have used it have commented that they are good, and have already bought a second one.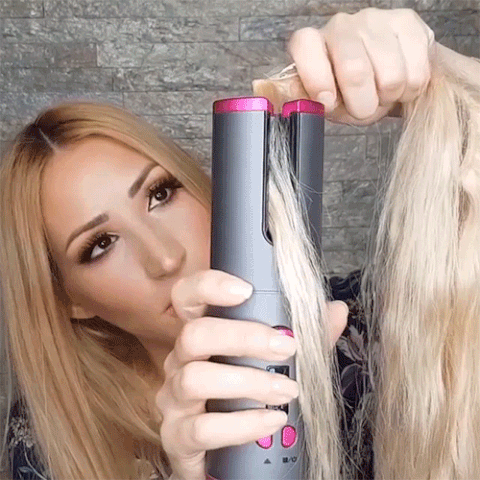 Curling iron battery operated is a professional hair curler that is easy to carry, is smaller and more attractive than usual hair curler.The most important thing is that you can put it in your bag to realize your curling wishes anytime and anywhere, don't worry about not having a plug, it can be used for 60 minutes each time it is fully charged.
When using the battery powered curling iron, be sure to wait for the curler to cool down before putting it away after use to avoid unnecessary danger. Be careful not to come into contact with water when using battery operated curling tongs in the bath or shower. Keep pressing the curl button while using the machine to avoid tangles at the ends of the hair. Finally, curlers must be kept out of the reach of children.
Battery operated hair curling iron is more efficient than manual curling. Multiple temperature settings can better control the curling of curly hair and make styling easier. Different temperatures can meet the needs of different hair quality, hair volume and hairstyles. The design of the battery operated mini curling iron is very compact, and the cordless design is more convenient. It can be used anytime, anywhere when it is packed in a bag and placed on a car.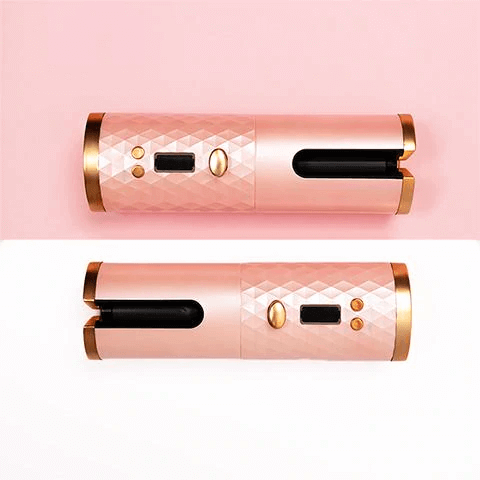 Use this latest cordless curling iron, say goodbye to the messy and tangled cable design. Without cable restraints, you can curl your hair anywhere with this automatic hair curler .The cordless auto curler uses latest intelligent induction motor for superior performance and well defined curls, which will never pull or tangle your hair.
Battery operated curling tongs can be charged in a very short time, so it can reduce energy consumption and reduce environmental pollution. It is small and suitable for putting in a cosmetic bag or luggage, easy to carry, and can be finished in 15 minutes. , is a time-saving tool for beauty lovers.
Rechargeable curling irons do not need to spend too much energy, just put the hair in, press the button, and the curling work can be completed, which is much more convenient than manual curlers, and can complete more perfect curling effects in a short time, making the shape more beautiful . Battery operated curling tongs are suitable for hairstyles of different lengths, whether you have shawl hair or long and thick hair. Compared with some curlers on Amazon, the price of this battery powered curling iron is more affordable.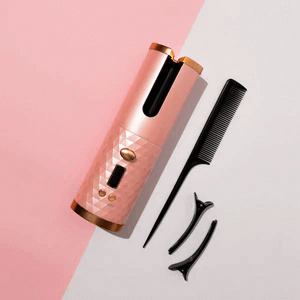 Cordless Hair Curler can offers fast and wireless operation. Its automatic technology allows you to wrap around your hair and create curls automatically in as fast as 8 seconds. With its built-in rechargeable battery, you can get instant curls anytime, anywhere without searching for power outlet. It's a perfect replacement for traditional curling irons. 
Compared to traditional curling irons, the battery operated curling iron uses a rechargeable lithium-ion battery. battery curling iron will be a revolutionary new technology in the fashion industry, allowing you to change your hairstyle anytime, anywhere. Simply put 1 inch of hair into its heated compartment, press the button and wait a moment to create beautiful curls in seconds. At the same time, this rechargeable curling iron uses a high-tech rechargeable lithium-ion battery and a detachable USB charging cable for charging. Up to 60 minutes of wireless use per charge.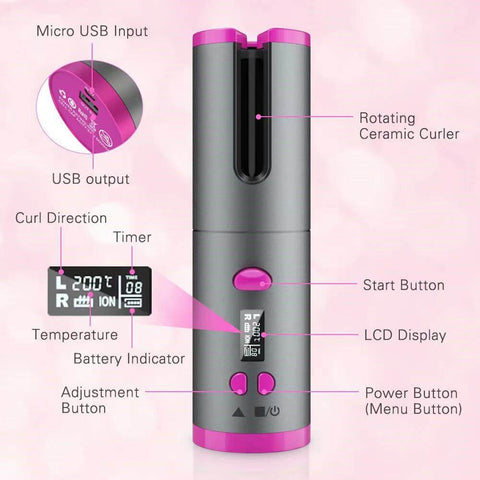 Choose the temperature of the heat setting and choose the curl direction (left, right or mixed) and the battery powered curling iron will wrap itself around to curl your hair. You just need to insert your hair into the curling room and press the start button. Wait for the curling iron to beep, release the start button and pull the hair out, and the curls you want will appear in front of your eyes.
The battery operated curling iron has 11 timer options, which can be selected at will within 8s-18s. 6 heat settings, 150°C-200°C / 300°F-390°F, up to 390°F. This means that battery powered curling irons can be used safely on damaged hair and can give style to rough hair. The ceramic crimp cavity is thermally insulated to protect your skin from burns during use. battery curling iron can create waves of all sizes, from loose to tight curls. You can freely set according to your hair quality and hairstyle, and create your own style at will. After 10 minutes of inactivity, it automatically powers off for added security.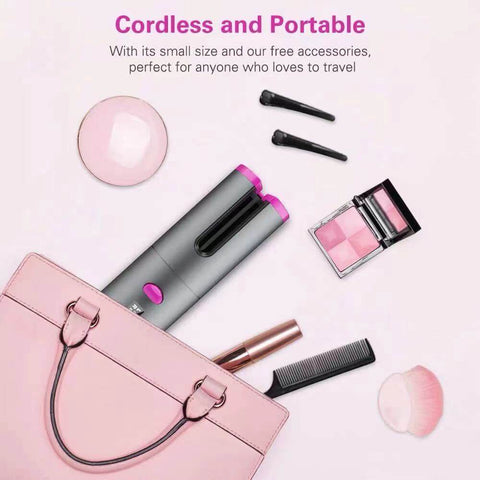 The barrel will auto-spin around and wrap section of hair into the curling chamber. Easy to carry when traveling, can curl your hair anytime and anywhere, far away from the trouble with the line.
Features 6 adjustable low heat settings with a maximum of 200 degrees, combined with 6 timer settings to avoid damaging your hair, even if it's fine, fragile, or color-treated.
Unique anti-scald design & automatic reverse rotation to help avoid any tangled hair problems. It's also energy-efficient. It'll shut off automatically after 10 minutes of no use.
Large LED display presents clear temperature, direction, and timer, it presents more readable and convenient use.
Two-Way Rotation - With the latest two-way rotation technology, you only need to set the direction of rotation and put the hair in to create a perfect curl. 
Everyone Can Be An Expert - Suitable for different hair textures, with different temperatures and timers, you can create different waves and styles.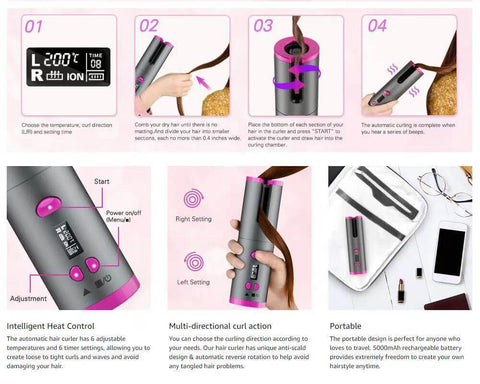 Curling iron battery operated is only 7.5 inches long, curling iron battery operated is a must-have for travel. The built-in 5000mAh large-capacity rechargeable lithium battery is equipped with a USB data cable to meet your styling needs anytime, anywhere.
The disadvantage of battery curling iron is that it cannot be used while charging, it takes 3 to 4 hours to charge. Some customer reviews also show poor battery life. Since each full charge lasts about an hour, rechargeable curling iron is not the best choice for thick or long hair.
Advantage
Easy to operate and ideal for travel
Anti-burn function with smart induction motor to prevent hair from tangling
The heating chamber is made of ceramic, nano-silver, tourmaline, which can heat up quickly
There are 11 timer settings and 6 heat settings up to 390F
Comes with auto power off, USB charging cable, clip, comb and pouch
Shortcoming
Long charging time takes about 3 to 4 hours
Cannot be used while charging
The battery powered curling iron will achieve your curl type with heat settings and curl direction.
For very thick hair, a higher temperature and a longer timer are required.
For looser hair, it's better to choose a lower temperature and set a shorter timer time.
It is recommended to use the battery curling iron away from the face, which means you can choose the opposite curling direction. If you want to curl the hair on the right, choose the left curl direction, and vice versa.
PACKAGE CONTENTS:
1 x Curler Can - Portable Wireless Automatic Hair Curler
1 x Plastic comb
1 x Storage bag
1 x Instruction manual
2 x Hairpin
1 x Gloves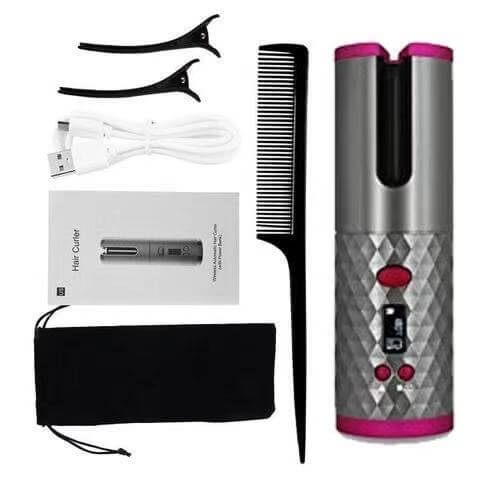 HIGH DEMAND- Most orders arrive in 10 to 18 business days.

SATISFACTION GUARANTEED- If something is wrong with your order, you can quickly contact our helpful customer support team to get a refund. 

Available online only. We ship Worldwide!
Free shipping worldwide
Please allow 2-4 weeks for delivery to the United states 、Canada、 United kingdom、Australia、 New Zealand and all European union countries
Please allow 2-6 weeks for delivery to the rest of the world
Our gurantee
Tracking number for every order
Sale payments via paypal and stripe
24/7 assistance shop beautifulyou886@gmail.com
No hidden fees