Short square acrylic nails is one of the very popular styles at present, with a regular shape, perfect proportion, and perfect orthogonal lines make it more comfortable to wear. The design of Short square false nails is inspired by French fashion and design masters, and has unique personality characteristics. Symmetrical shape, the design of the edges of the four corners is more in line with the intention of the wearer, and can have many different designs, such as oval, semicircle and so on. Exquisite design, can give fingers a more elegant look.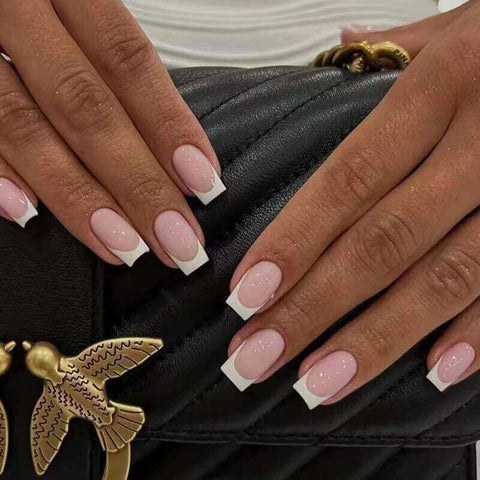 Short square artificial nails are gentle, comfortable, simple and elegant, in line with the style of many female friends, and the price is affordable. It is a jewelry suitable for gift giving. Short square fake nails is a fashionable combination, suitable for giving to friends during festivals. Relatives, classmates, colleagues, etc. In addition, it can also be given to trendy and fashionable friends or female friends to help them match clothes more stylishly. The soft material is more durable and wear-resistant, and the inlaid diamonds are more dazzling. It can be well matched with different clothes to bring out the elegant temperament.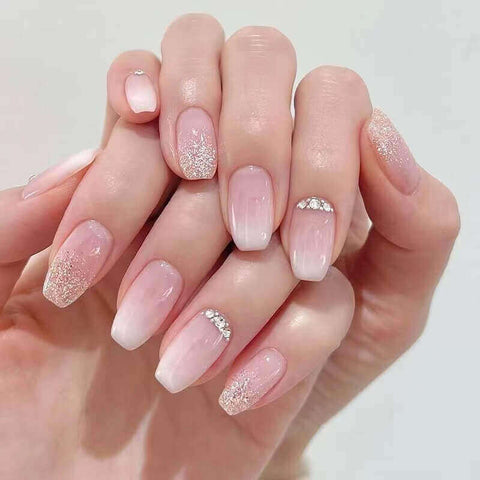 With the continuous update of the trend of beauty and fashion, the size of square short french nails will become smaller and smaller, so that they will be closer to the skin and more comfortable; the technology will become more and more advanced, more efficient, and more energy-saving; the maintenance of square short fake nails It will be more convenient and concise, and it will be easier for users to wear; and the price will also be reduced, so that more people can afford it.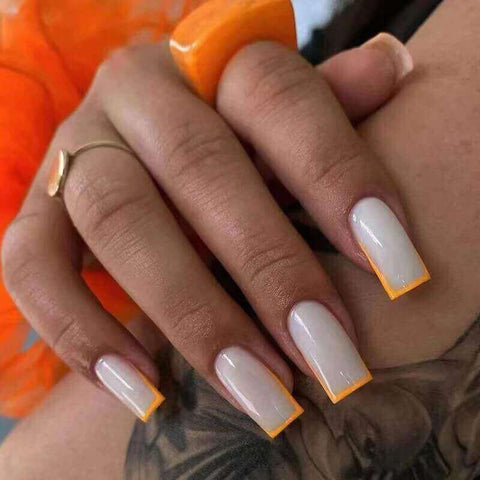 Short white acrylic nails can greatly reduce the manicurist's working time, so it can reduce the waiting time, and it is cheaper than the general manicure price, which can save a lot of money. Without spending a lot of time and money at the nail salon, you can change the style of your nails anytime, anywhere within 16 minutes. Pay attention to clean your nails before use, short square acrylic nails will last longer, and be careful not to expose them to water within an hour after wearing them.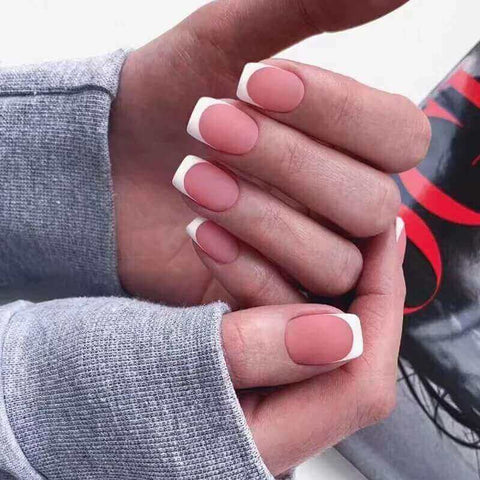 The short square white acrylic nails make the nails more fashionable and eye-catching, and it is easier to keep the perfect shape, so you don't have to worry about the nail shape being damaged or deformed. The square short nails acrylic material is made of high-quality ABS material, non-toxic and odorless, a perfect replacement for salon acrylic nails, it will not cause any damage to the nails, and will not affect the normal growth of the nails.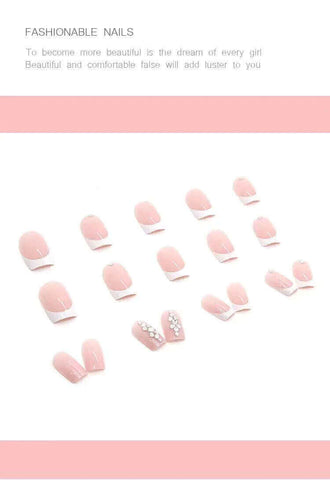 Package Includes:
24pcs False Nail Tips+Press glue, different sizes of fake nails short square, more suitable for choosing the most suitable fake nails for yourself, and it is easy to trim them to any length and shape. Suitable for fingers of different shapes, so you can DIY design according to your own style.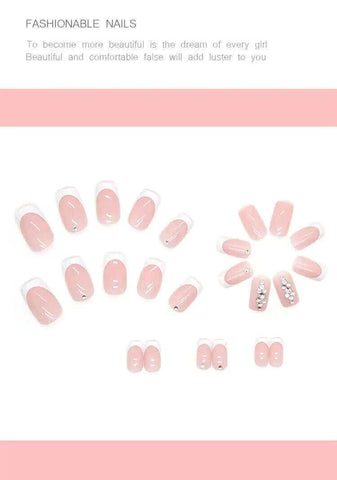 ========================================================
 Free shipping worldwide

Please allow 2-4 weeks for delivery to the United states 、Canada、 United kingdom、Australia、 New Zealand and all European union countries
Please allow 2-6 weeks for delivery to the rest of the world
Our gurantee
Tracking number for every order
Sale payments via paypal and stripe
24/7 assistance shop beautifulyou886@gmail.com
No hidden fees