What is a nail printer?

The nail printer machine is a machine specially used to make nail decorations. By using inkjet technology to print images on fingernails, it can accurately print pictures, text and color patterns for better decoration on nails. The method of using the nail printer machine is very simple. You only need to transfer the picture or text to the printer, and the pattern can be printed on the nail art accurately. You can design different patterns according to your preferences.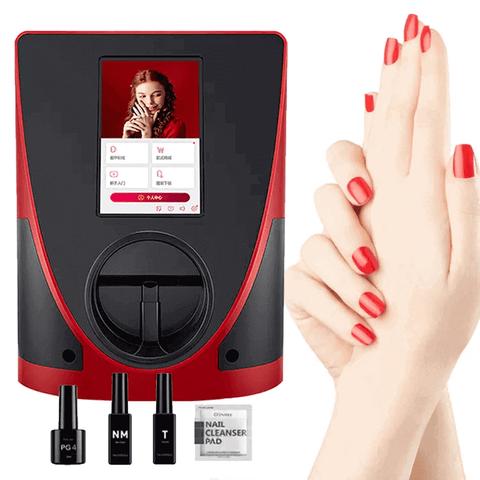 Nail printer is a high-tech machine that can print real and fake nails for hand and toenails with difficult patterns. The automatic detection function automatically recognizes the shape and size of the nail, which can ensure that the picture or pattern on the nail is automatically aligned. Nail art printer comes with many pre-installed designs, other designs or photos other than machine can also be imported in special format, USB port or wireless (wifi or bluetooth connection) mobile phone operation is easier to use. Nail paint machine is compatible with both Android and iPhone mobile phones, the app can provide countless nail art designs, updated every week with new styles, new styles of patterns, creating a one-of-a-kind finished product. Not only can you leave personalized designs on your nails, but also can be printed on natural gel, acrylic, or engraved on the nails, and the spray-painted ink is super durable.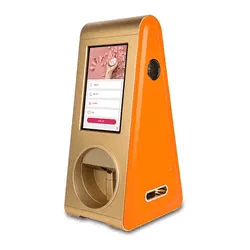 What is a manicure printer machine and how it works
A Nail polish printer is a device that prints designs onto nails, usually using special types of nail polish and false nails as accessories. This nail art machine is used to print designs that are too complex to draw by hand. The operation method varies with different machines, but most 3d printer nails on the market usually put one or more fingers into the printing space that has been coated with nail polish.
Automatic nail design machine has a variety of functions and designs. Each nail printer will have a camera to identify the position of the nail that needs to be printed under the printer. When the inkjet primer is white, the camera can identify the border of the nail more easily to avoid the inkjet design from being printed crookedly. The white primer makes the color on top appear brighter and is more conducive to the background selection of the machine. Even some photo nail printers must wear a special device on the finger before use in order to assist the machine to print better, and the entire printing process requires the nail to be completely still.
The ink used for digital nail printers is usually installed in the ink cartridge of the machine like ordinary printers, and ordinary printer inks cannot be used. Printed images can be very small and complex, and can be printed on toenails or other things that can be placed on the machine in addition to fingernails.
How do you print pictures on your nails
The process is very simple, paint any base color you like on the nail, and then insert your finger into the printing slot of the nail photo printer. Select a favorite pattern design on the touch screen of the mobile phone, and the finger nail printer will print your photo directly onto the nail.
This is an intelligent nail printer with various designs and customizations. There are more than 800 nail art designs. You can choose or choose your favorite photos from the phone album gallery as nail art pictures. The style of nail art can be set, selected and edited according to your own preferences.
Phone nail printer's fast and easy-to-use system saves a lot of time. Do some basic nail care before use, just apply a coat of nail polish, and a basic color gel as a print background. Upload the picture you like in the nail art diy printer, choose a suitable printing position, and the group you like will appear on your nail after 35 seconds.
Automatic nail art printer machine has a special free APP that can be used for mobile phone screen control, WIFI connection is more convenient, digital printing technology, AI nail surface detection, not only help you print hard-to-depict pictures on nails, but also intelligent nail art function automatically recognizes nails AI Contour, color recognition, no need to apply anti-spill glue or cleaning glue, and it is healthier than the oven lamp nail art on the market. Non-contact technical painting, paint your favorite pictures directly on the nails.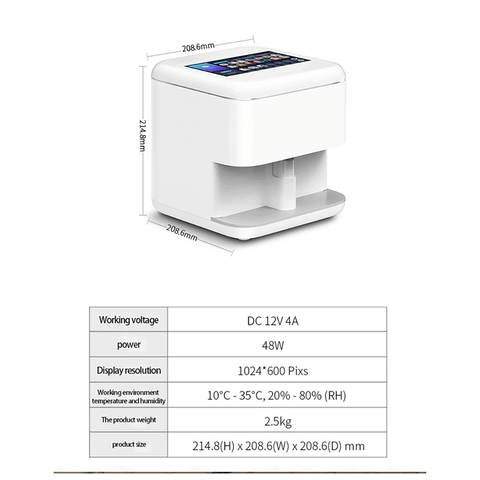 Finger nail paint machine is suitable for beauty salons, wedding studios, nail salons, hair salons, shopping malls, etc. Our advanced design combined with printing art and nail art will lead the trend of the fashion industry, and the novel design and concept will be favored by the majority of beauty-loving women.
How to use nail printer?
Following a few simple steps when using your nail printer will make your printed nails last a little longer. Apply a layer of white nail polish as a base, similar to the base glue we usually use for manicure. Choose a design or pattern you like and place your finger on the nail printer, being sure to place your finger in the correct position so that the design fits your nail perfectly. After the pattern is printed, apply a layer of protective varnish to the nail (we often call it a sealer). The operation process of the nail printer is very simple, and it only takes 5 to 10 minutes to print all the nails.
Where to buy digital nail printer?
If you search for nail printer on Google, there will be two options: automatic and manual. Manual nail printers are like children's toys, the price is relatively cheap, but the operation steps are also very complicated. Automatic nail printers are used by professionals, with functions such as screen connection to mobile phones, very high-tech, compared with traditional manual nails, nail printers are very expensive, but if you have one, you can use it to do something very interesting and interesting Creative business.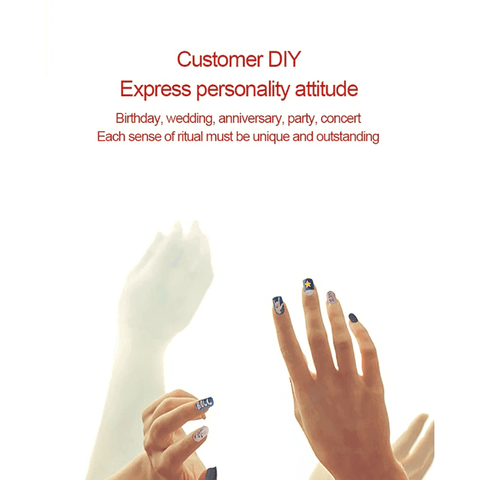 Nail digital printer machine saves time and money for you, allows you to realize the treatment of owning a private manicurist, and you can get nail designs that are not available in the market without leaving home, and have unique nail styles in the world. Using this nail printer machine only takes 40 seconds to get your own design, which greatly improves work efficiency. The 3D intelligent automatic nail printer is easy to operate, independent display, touch screen operation, one-key printing, intelligent recognition of nail contours, suitable for any hand shape, and does not hurt hands.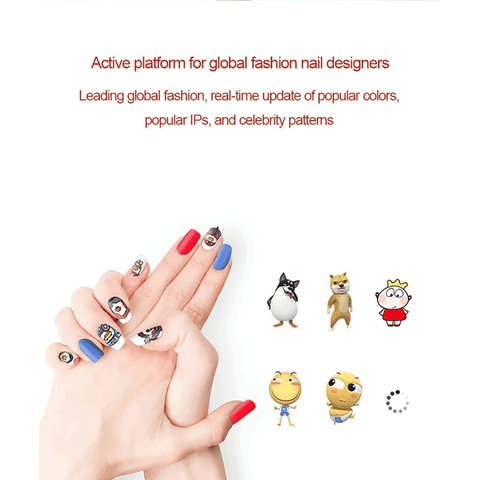 How to use intelligent nail printing machine?
Simply connect your phone to the nail printer machine WiFi and use the app to browse designs, select images.
After inserting your finger into the printer, the phone connects to a camera inside the printer that can view the contours of the nail in real time and use the app to position and resize the image so that the pattern fits the nail.
First, you need to apply a layer of white gel polish, and second, apply nail polish around the cuticle of the nail to prevent the ink from getting directly on the skin. We will provide nail polish and nail photo printing machine together.
Next, apply the printing gel, upload your favorite pattern to the program, and when the nail and image are ready, insert your finger into the mobile nail printing machine, adjust the size of the image on the screen, and press print. Finally, tear off the nail film of the cuticle to cure the nail for one minute, and apply a layer of sealing nail polish, the nail art will last longer.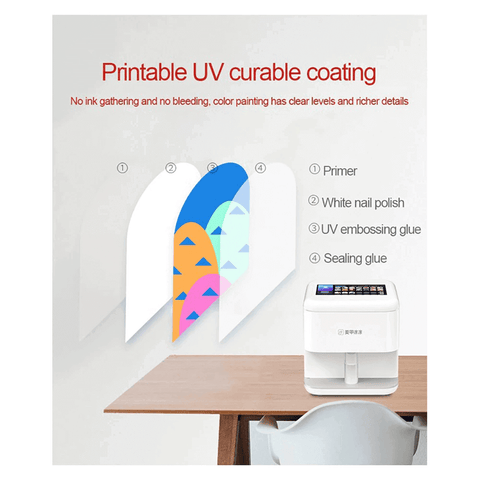 What is nail printer machine with phone?
Nail printer machine with phone is a design type of inkjet printer, which is specially used to quickly print complex pattern designs directly onto nails for an amazing nail art. For nail salons, the nail art design printing machine is an amazing technology, they can print images faster than manual manicurists, and can help customers complete nail work faster. In addition, this is definitely a high-end technology that retains customers and brings a unique experience, high-end technology that can be used to advertise. Help stores provide word of mouth and viral advertising.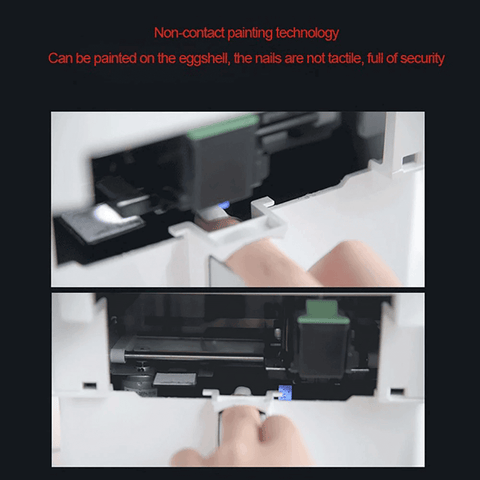 Advantages of Professional nail printer:
Direct operation from the app, small size and weight only 2.5kgs, easy to carry, multiple colors to choose from, and you can upload your own pictures or designs. One ink cartridge can print 900-1000 nails, and the ink cartridge is relatively convenient to buy.
The machines in the market are universal and can be purchased anywhere. The disadvantage is that it takes time to study the functions of each button of this high-end nail printer digital at the beginning, and secondly, you can only do manicure for one nail at a time. The best 3d nail printer can print out the desired pattern in less than a minute, even within a minute, plus setting and polishing it takes about 10 minutes to complete a complete nail job. But intricate manual manicures can take 10 to 30 minutes per finger, helping stores speed up customer turnover.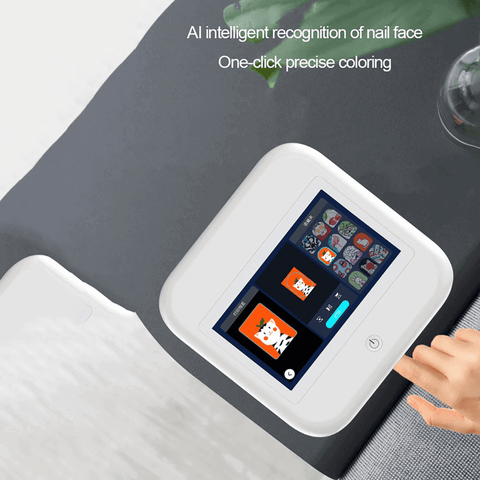 Compared with o2nails nail art printer, the price of this amazing nail printer is more affordable. The price of go glam nail printer and o2 nail art machine on Amazon is between 899-1299, while the price of this nail art printer for sale is 799 dollars. It is the cheapest nail printer machine with the most functions on the market.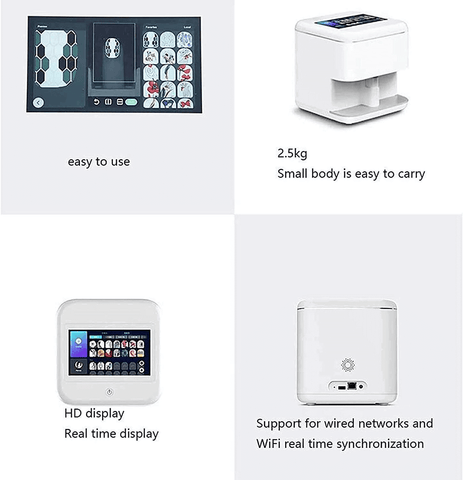 Is Portable nail printer worth buying?
The price of the popular nail art printer machine currently on the market is not cheap. Everyone is searching for digital nail art printer machine price. The price of this machine on Amazon is between 899-1299. To be honest, this price is not cheap. It depends on whether you buy it or not. on your own financial situation. If eye-catching nail art is your thing and don't have the time or artistic skills to do it yourself this finger nail paint machine can get you there. For the salon, what can be an investment now can save a lot of time later, increasing sales.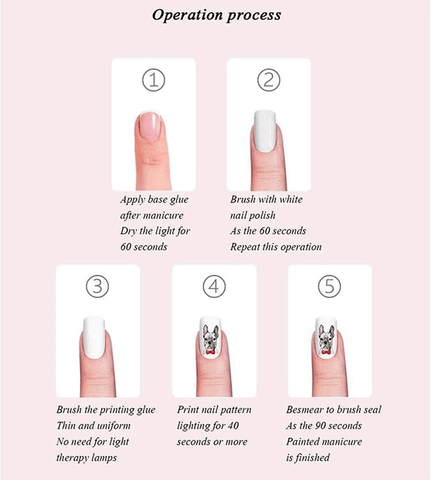 If you can afford it, a fingernail printer for iphone can help unlock art that is impossible with the human hand. But for individuals, they are not cheap, but the tip of a manicure in a complicated salon nail shop may cost you 50 dollars, depending on how often you do your nails. If you can afford it, maybe a finger nail paint machine can cost you less than 50 dollars. You can recover your cost within one year.
Do I have to apply gel nail polish before using the nail digital printer machine?
No, the nail art machine display video is all printed on gel nail polish. The ink itself is not gel. Applying gel base coat and top coat will prolong the wear time of the nail art. If you want the design to last for more than a few days, gel nail polish Glue is indeed a good helper.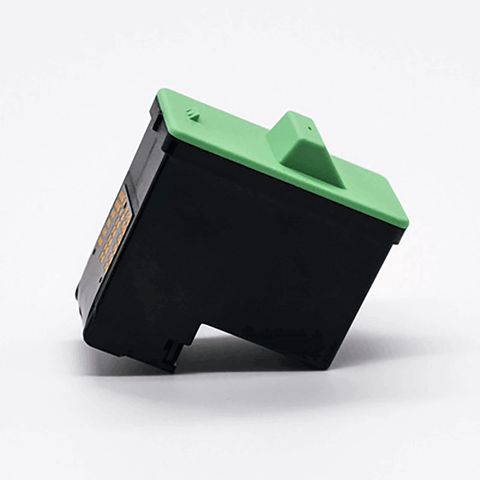 Some nail printer buyer's review
Compared with manicurists who spend two hours or more, the work efficiency of the nail printer is very fast. In the process of manual design, the design of the pattern is precise, and there is no room for perfect printing of the pattern design on the nails. More complex and beautiful patterns and colors are available to create more exquisite nail art. The color ink of the ink tank is very durable.
How Long Can Printed Nail Art Last?
Printed nails should last 2 weeks or more if you follow your normal routine with a top coat and base coat, and maybe a few days if you don't use a top coat.
How to remove nail art made with a nail printer.
Nail printer ink can be easily removed from your nails with regular nail polish remover or rubbing alcohol.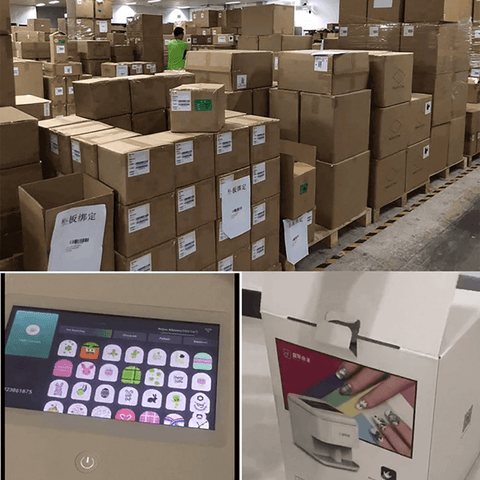 Can it be printed on bare nails?
It is possible to print on bare nails, but you may get a poor quality manicure and it is not recommended.
It is recommended to use the polish supplied with the printer. Any other brand of polish can be substituted, but gel polish will give better results. For me, a pure white gel polish works a bit better, the white polish provides a white background for the image to show clearly on the nail.
Is finger nail paint machine safe?
The ink used in all nail printers is the same as that used in standard inkjet printers at work. It is made of non-toxic ingredients such as water, ethylene glycol and alcohol, and can be used without any harmful ingredients.
O'2 Nails Portable Nail Art Printer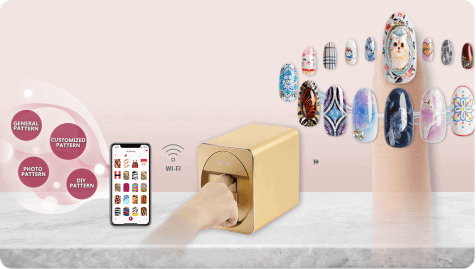 O'2 Nails Portable Nail Art Printer is priced at $899 on Amazon. It has a very friendly app, is small and easy to carry, has a lot of pre-installed libraries, and ink cartridges are more common in the market. The downside is that you have to buy a separate bottle of Pre-Print glue, and you can only print one finger at a time.
The advertisement of o2 nail printer is that this machine does not take up a lot of space and only weighs 3.5 pounds, so it is very easy to carry. Connect the mobile phone to the WIFI of o2 nails mobile nail printer to browse and upload selected images. It will be better to use their brand of polishing products before using the nail printer, and you need to apply a Pre-Print coat before using the mixed gel nail color to create an optimal surface for the ink. If the Pre-Print coating is not used, the printed pattern will be unclear.
02 nail art printer has amazingly advanced and complex software, as long as you put your finger into the machine, it will automatically recognize the nail and adjust the most suitable edge for printing. O2's camera can also zoom in or out on the screen to crop and adjust the image according to your preferences.
Txmachine smart digital nail printer
The txmachine smart digital nail printer is priced at $2,399 on Amazon. It can print multiple fingers at a time. It can print five different designs at the same time. It can be printed not only on your finger or toenails, but also on other toys. Touchscreen comes with free ink. The disadvantage is that it is more expensive and bulky, more like a small printer.
Txmachine smart digital nail printer weighs about 40 pounds, its design will make your customers full of praise, the large color screen is as convenient as selecting songs on the karaoke screen, printing five fingers at a time can help save more time . 27-color print cartridges are widely available in the market.
=================================== 
PACKAGE CONTENTS:

Controlled by touch screen or mobile phone APP,
Lots of designs available for download
Design your own personal pattern
Quick search category
Optionally classify common patterns
Technical specifications
Product name: 3D touch screen nail machine
Power supply: 110-240v/4A
Rated power: 48W
Machine size: 214.8*208.6*208.6mm
Net weight: 2.5KG
Gross weight about 4kg
packing list

1*Host
1*adapter power supply
1*cartridge
1 set of nail tools
2*Nail
HIGH DEMAND- Most orders arrive in 10 to 18 business days.


SATISFACTION GUARANTEED- If something is wrong with your order, you can quickly contact our helpful customer support team to get a refund. 

Available online only. We ship Worldwide!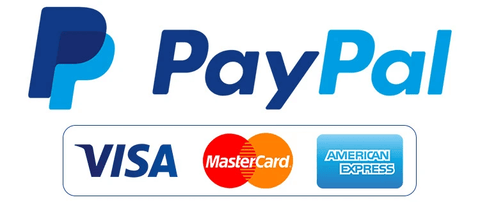 Hair curler cordless Free Famous Tiktok Cordless Automatic Hair Curler  Worldwide Shipping in 72 HOURS
Free shipping worldwide
Please allow 2-4 weeks for delivery to the United states 、Canada、 United kingdom、Australia、 New Zealand and all European union countries
Please allow 2-6 weeks for delivery to the rest of the world
Our gurantee
Tracking number for every order
Sale payments via paypal and stripe
24/7 assistance shop beautifulyou886@gmail.com
No hidden fees