Tiktok has been showing exciting new techniques, straightener to curl your hair is going crazy on Tiktok, if you haven't considered the way to curl your hair around the curling iron before, then this hair straightener and curler will definitely let you Eye-opener. When the curling iron reaches a certain temperature, select a strand of hair and wrap it completely around it, then clamp the straightener down as usual, and slowly move down your hair strands, just like straightening hair, The moment the straightener comes off completely, loose curls ensue.
Easy and fast curl hair with straightener tiktok. professional straightener curl wand produces amazing results even on the coarsest hair.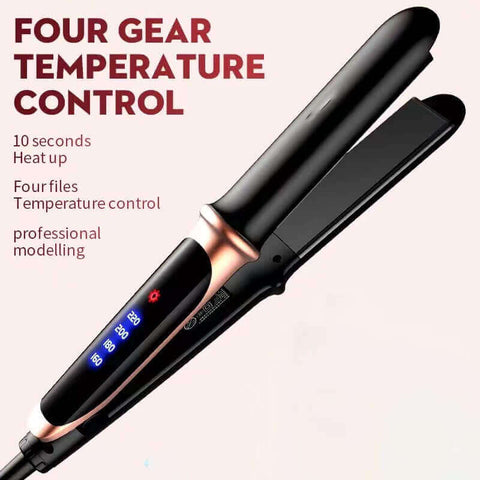 Tiktok hair straightener has LED digital temperature display function, the temperature can be adjusted from 160°to 220°C, and the appropriate temperature can be selected according to the hair quality.
The unique straightener curls tiktok gives you the freedom to choose between curly and straight hair. With the confident and clever twist curl straightener, you can go wild with big bounce curls.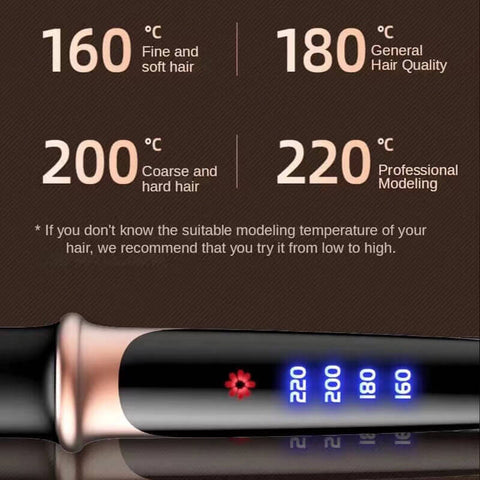 Tiktok curling hair with straightener's floating plate design will reduces the friction between the hair and the plate, preventing hair damage causeo by pulling.
Prevent hair damage: 90% PET and 10% glass fiber: safe high temperature fire resistant material, with anti-static, ceramic tourmaline ions and smooth glide coated plates, tiktok straightener curls provide 4 times more protection, extra shine and less static (*compared to standard ceramic coating)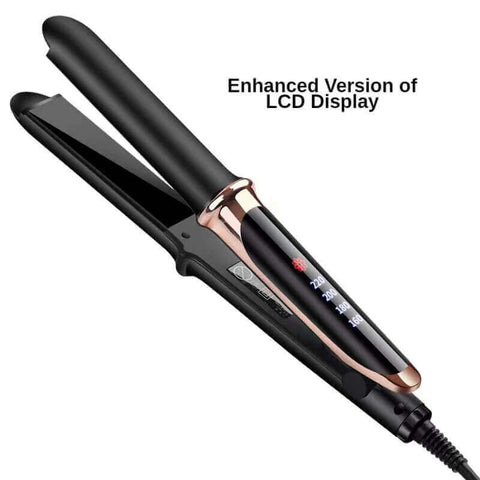 Lons for healthy silky hair: With tiktok curl hair with straightener's built-in ionizer, this straightener releases an abundance of negative ions that leave your hair smooth, silky and naturally shiny. It helps reduce frizz, split ends and tangles, and adds shine and repairs damaged hair.
Tiktok straightener use tourmaline ceramic coating can release a lot of negative ions when heated, reduce hair static and frizz will make hair healthier.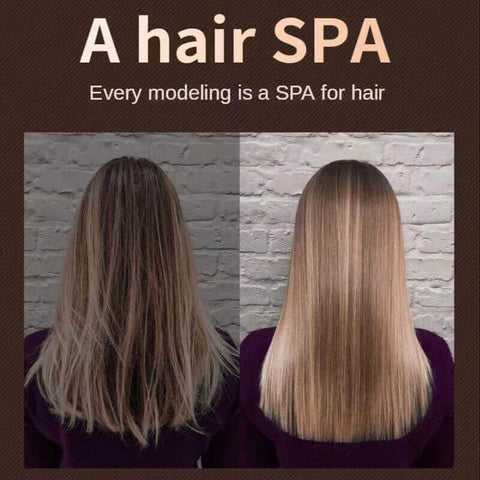 Hair curler straightener's Far-infrared function that locks in moisture and natural oils, making your hairstyle last longer.
No hooks, no drag: 360° rotating long cord curl hair with straightener tiktok, for women 3D twist plates, balance heated plates that move as you make your move. The twist plate with curved edges constantly adjusts the angle to avoid pinching hair, giving you more control when styling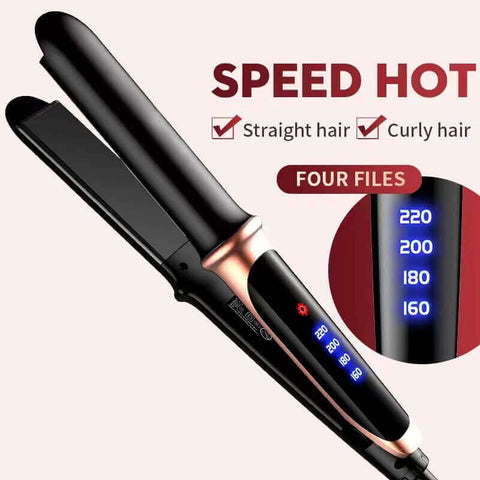 Adjustable high heat LCD digital display: tiktok curl hair with straightener can adjustable temperature settings ranging from 160 - 220 degrees Fahrenheit, providing greater control and making all hair types perfectly smooth.

Tiktok flat iron is sleek with compact design, 110-220V universal voltage, ideal for home and travel use.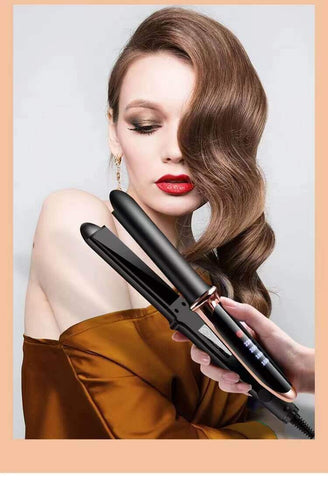 But for this hair straightener tiktok's curler heating speed in 110V voltage area is slow and will takes about 10 minutes to reach the maximum temperature, and it only takes 4 minutes in the 220V area.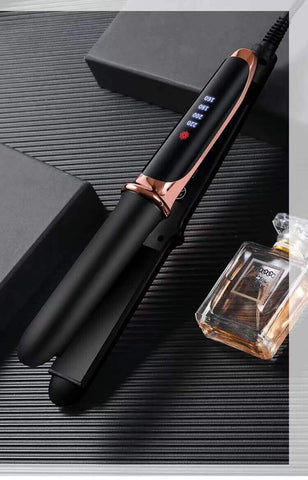 How do you curl your hair with a straightener?
First divide the hair into many bundles, and then place hair with straightener tiktok on the root of the hair on the top of the head. After reaching the appropriate temperature, grab the hair with your fingers and wrap it around the tiktok hair straightener until the whole bundle of hair is completely wrapped, then put the straightener and curler Wind out from the hair, gently pull the hair with your fingers, straightener to curl your hair is finish now.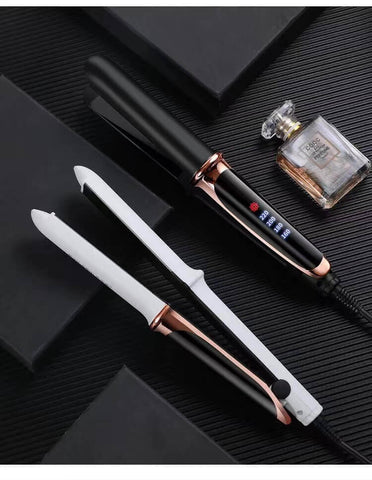 Thermal Material: Tourmaline Ceramic
Heating element: PTC
Voltage:110-220V
Frequency: 50-60Hz
Power:30W
Applicable hair: dry hair
Temperature:160°C-180C-200C-220C adjustable(4gears)
Size:31*3cm(L*W)
Line Length:Approx.1.9m
Colour: Black/White
Weight: about 292g
Package Contents:(safety bubble bag packaging,nobox)
1 x curling iron
1xUJserManual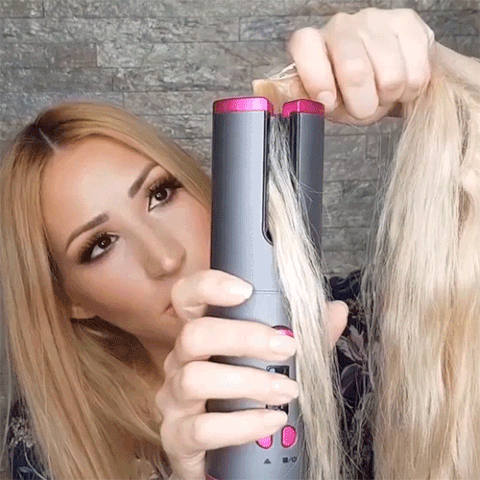 This automatic hair curler is also a good choice, if you are interested, please click here:
=======================================================
HIGH DEMAND- Most orders arrive in 10 to 18 business days.

SATISFACTION GUARANTEED- If something is wrong with your order, you can quickly contact our helpful customer support team to get a refund. 

Available online only. We ship Worldwide!
Hair Curler Machine Free  Worldwide Shipping in 72 HOURS
Free shipping worldwide
Please allow 2-4 weeks for delivery to the United states 、Canada、 United kingdom、Australia、 New Zealand and all European union countries
Please allow 2-6 weeks for delivery to the rest of the world
Our gurantee
Tracking number for every order
Sale payments via paypal and stripe
24/7 assistance shop support@showbeautifulyou.com
No hidden fees