The best light therapy for wrinkles is the sunlight that can be seen by the inner eye. It is composed of seven colors of red, orange, yellow, green, blue, blue, and purple. It can regulate people's emotions, boost their spirits, improve people's life pleasure and work efficiency, and improve Various physiological functions of the human body. Most of the health benefits of sunlight are related to its ability to increase the vitamin D content in the body. Vitamin D controls cell regeneration in the body.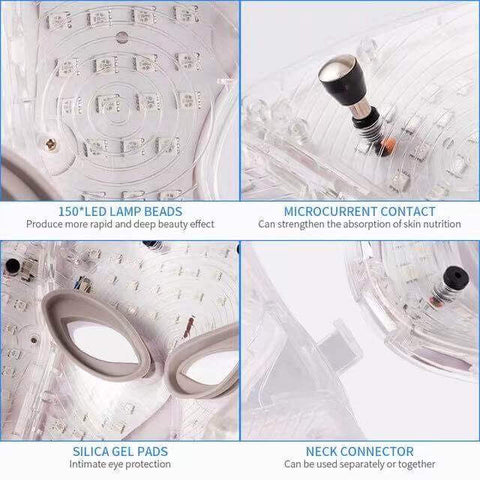 Red light therapy mask for wrinkles:
Red light (visible light) and infrared light (invisible light) are healers, comforters, and plumpers. Infrared rays stimulate the production of collagen, thereby improving the visible signs of aging, making the complexion look fuller and increasing skin elasticity-this is always a good thing. Red light can also promote blood circulation, thereby promoting cell renewal, helping the skin heal and restore vitality. Red light helps treat acne scars, rosacea, psoriasis, general skin inflammation, sunburn and wound healing.
Neutrogena light therapy acne mask for wrinkles
Seven colors of LED lights: Red light-increased blood flow and collagen production | Blue light-calms and tightens skin | Green light-improves pigmentation, fine lines and anti-aging | Yellow light-smoothes skin, reduces redness and swelling | Purple light relaxes , Improve lymphatic metabolism, light blue light, soothing, can help allergies | New White Light-Promote tissue metabolism.

Diy light therapy mask for wrinkles 

Specifically for local outbreaks. Use clinically proven blue and red LED technology to help clear and prevent future acne. Blue light penetrates under the skin surface to fight acne-causing bacteria, while red light penetrates deep into the skin to help cool inflammation, sensitivity and redness . When used in combination, this LED combination also helps smooth blemishes and treat dark spots and scars after acne. Use it for three minutes a day (it will automatically turn off to avoid overuse), and hope to see results within a week. It also works wonders for anyone suffering from clogged pores.


Working time function:
The best light therapy for wrinkles working time of Mâsk facial skin care is 5~60 minutes, you can adjust the time you want to use, and enjoy the skin care time easily and comfortably. (Usually we recommend using it for about 15-30 minutes a day, and you will see obvious results within 4-6 weeks. Skin problems will improve.)
[Safe and comfortable] Use environmentally friendly ABS material, non-toxic and tasteless, Mâsk's eye area is soft and does not squeeze, healthy and durable. easy to use.
HIGH DEMAND- Most orders arrive in 10 to 18 business days.
SATISFACTION GUARANTEED- If something is wrong with your order, you can quickly contact our helpful customer support team to get a refund. 

Available online only. We ship Worldwide!
Light Therapy Mask Free  Worldwide Shipping in 72 HOURS
Free shipping worldwide
Please allow 2-4 weeks for delivery to the United states 、Canada、 United kingdom、Australia、 New Zealand and all European union countries
Please allow 2-6 weeks for delivery to the rest of the world
Our gurantee
Tracking number for every order
Sale payments via paypal and stripe
24/7 assistance shop support@showbeautifulyou.com
No hidden fees