The dish gun that is currently circulating on TikTok is very popular and is loved by many families. This dish gun has a three-in-one multi-functional design and can be used to clean different surfaces. It is an indispensable part of every household's cleaning tool arsenal. A great thing, the handheld electric dish scrubber can be charged via USB, which is convenient and easy to use, allowing you to charge it anytime and anywhere.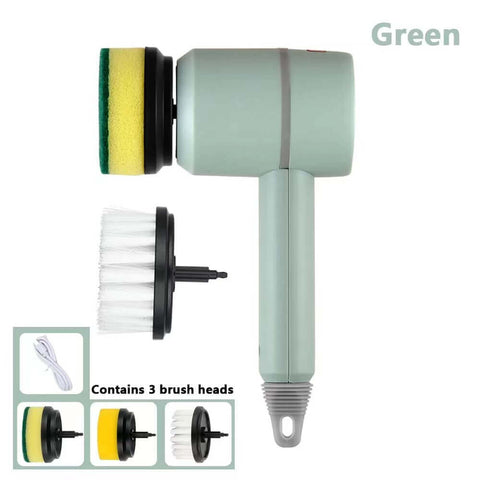 The nylon brush of the dishwasher scrubber brush is suitable for cleaning edges and corners, suitable for cleaning floors, shower walls and bathtubs, the scouring pad brush head is suitable for cleaning stoves, greasy walls and pots, and the sponge brush is suitable for cleaning dishes, sinks, glass and desks . The power dish scrubber's waterproof setting allows the power dish scrubber to be cleaned directly into the faucet without worrying about product damage.
If you hate having greasy stains on your hands every time you wash dishes, then this power dish scrubber will definitely please you. The automatic handheld function makes it convenient and efficient to use, allowing you to do it without getting your hands wet. Complete cleaning of dishes. The power pot scrubber can easily clean hard-to-reach areas, such as the top of your refrigerator or the corners of your bathroom, and is also great for cleaning a variety of surfaces, including kitchen countertops, bathroom sinks, and even car interiors. The dish gun with 360° rotating cleaning function makes cleaning easy. Clean every nook and cranny thoroughly and effortlessly.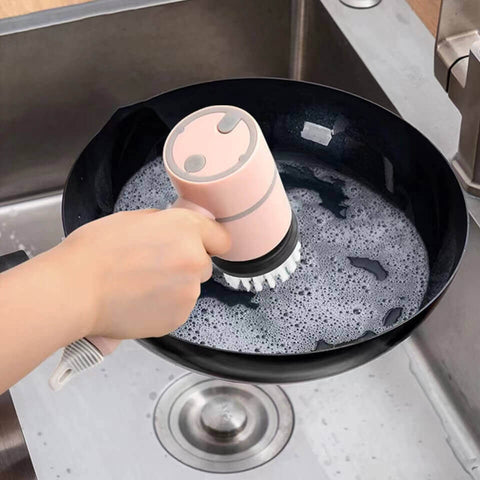 The electric dish scrubber is charged via a USB charging port, so you don't have to worry about the inconvenience of replacing batteries. The powerful brush head can efficiently remove dust, dirt, scorch marks, etc. The electric dish brush is easy to operate, just press the button and hold Live brush the body and a clean place will appear. The 4 interchangeable brush heads effectively clean dirty corners and are suitable for different objects, such as cleaning bathtubs, tables, wash basins, kitchen sinks, toilets, window glass, etc.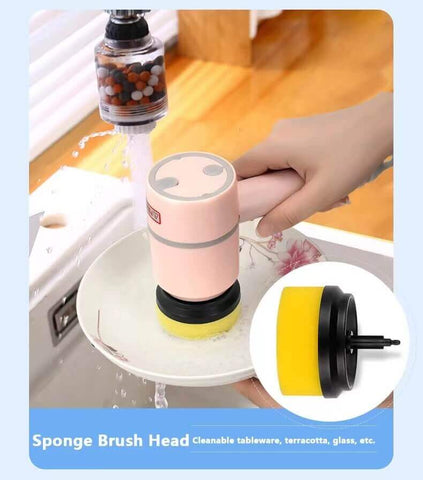 This tiktok pan cleaning brush is made of high-quality ABS material, lightweight and durable. Built-in leakage and over-pressure protection ensure safe use, making it a great gift choice for your family. Built-in rechargeable battery, can be used continuously for up to 120 minutes after 3 hours of charging.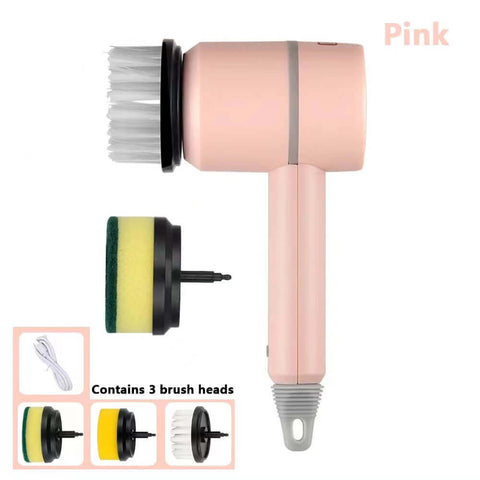 Instructions for use
Install the electric pot scrubber onto the main unit. It will make a "click" sound after installation.
When installing parts on the machine, please ensure that the machine is turned off and the indicator light must be turned off. Use the ON/OFF button to start the machine and select the appropriate working speed.
After the cleaning work is completed, press the button to stop the machine until the indicator light goes out, and remove the brush for cleaning.
Notice
The automatic kitchen cleaning brush is a cordless machine and needs to be fully charged before using it for the first time.
Please turn off the machine when installing or removing brushes. Please turn off the machine before cleaning.
Product name: automatic spinning handheld dish scrubber
Function: Cleaning
Product Category: Cleaning Brush
Material: ABS
Host size: 20*6.5*8.5cm
Battery capacity: 1200mah
Number of adjustments: three adjustments
Charging method: USB charging
Brush heads: 4 types
Color: white, pink, green
Battery voltage: 3.7V
Rated operating current: 1.2A
Rated power: 20W
Rated input voltage: 5V
Rated input current: 1A
Weight: 320g (approx.)
Package Included
Host*1
Brush head*4
USB charging cable*1
Instruction manual*1
=================================== 
HIGH DEMAND- Most orders arrive in 10 to 18 business days.

SATISFACTION GUARANTEED- If something is wrong with your order, you can quickly contact our helpful customer support team to get a refund. 

Available online only. We ship Worldwide!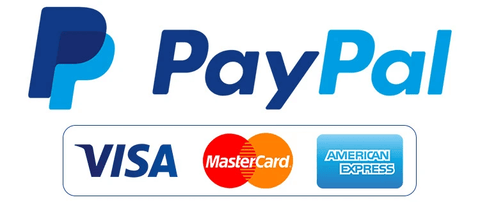 Worldwide Shipping in 72 HOURS
Free shipping worldwide
Please allow 2-4 weeks for delivery to the United states 、Canada、 United kingdom、Australia、 New Zealand and all European union countries
Please allow 2-6 weeks for delivery to the rest of the world
Our gurantee
Tracking number for every order
Sale payments via paypal and stripe
24/7 assistance shop beautifulyou886@gmail.com
No hidden fees