With the change of fashion, the color update tiktok trending nails has also been constantly updated. This year, many new colors have been introduced, such as coral, bright blue, peach red, etc., making nail art more fashionable and lively. famous tiktok nails also constantly evolving, and now it can provide more nail styles, from simple monochrome nails to poster nails, different nail styles can meet different needs.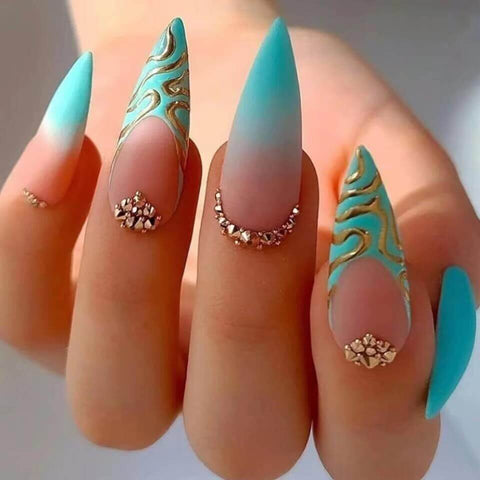 In recent years, tiktok nails have been welcomed by more and more beauty lovers, and the market demand is also growing. The development trend of tiktok trending nails is also constantly changing. The continuous improvement of variety and quality makes tiktok acrylic nails safer, more antibacterial, and brighter in color. The continuous improvement of technology and more technical elements are added, making fake Nail art is more refined.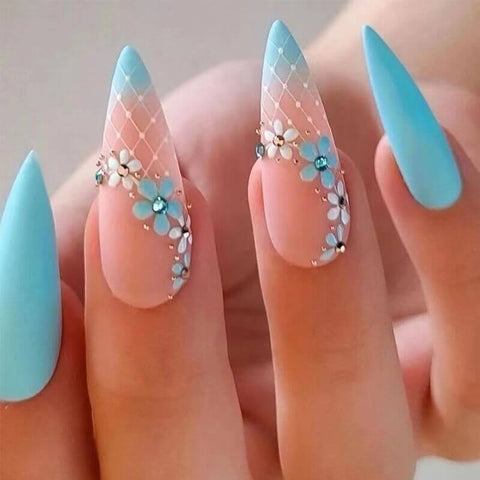 Tiktok nails refer to acrylic nails that can be worn and pressed on the nails. Unlike traditional nail polish, tiktok acrylic nails can be pasted on the nails and can be customized in different colors and patterns according to your needs. It can be reused many times and can be taken off and worn anytime, anywhere, which is more convenient.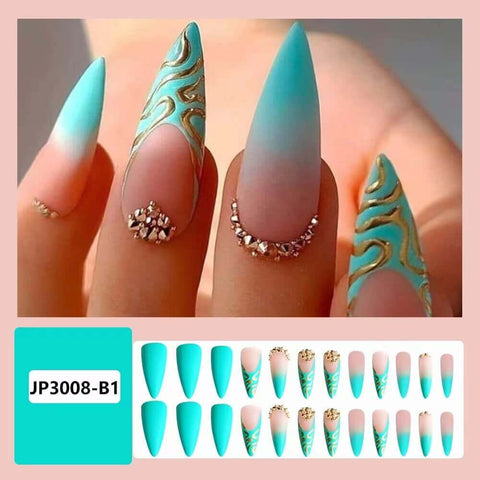 It takes about one to two hours to do a traditional manicure, and the chemical composition in the nail polish will also affect the health of the nails. Tiktok light blue nails mostly use jelly glue to stick to the nails, which saves time and is healthier to use .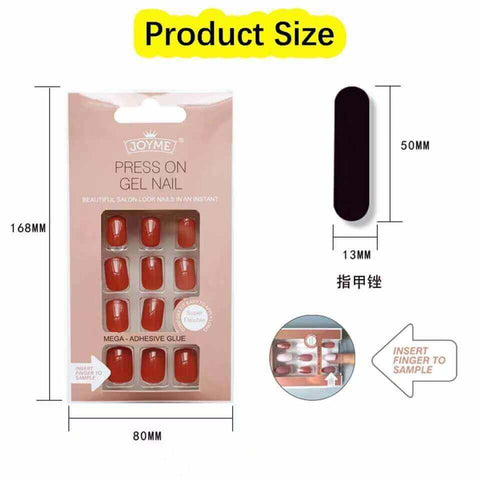 How to use long nails tiktok
First, use a nail tool to smooth the dead skin at the root of the nail to facilitate the burial of the nail
Then polish the nails with a nail clang to remove the grease layer on the nails and make the jelly glue stronger.
Wipe the surface of the nail with an alcohol cotton pad, stick a suitable size of jelly glue on the surface of the nail, press firmly, cover the entire bed and then peel off the film:
Then stick the tiktok fake nails on and press repeatedly until the nails are very firm.
Tiktok nails can last for a week to half a month, depending on the stickiness of the jelly sticker. If the weather is cold, which affects the viscosity of the jelly glue, you can use a hair dryer to heat it up before using it.
 ========================================================
Free shipping worldwide

Please allow 2-4 weeks for delivery to the United states 、Canada、 United kingdom、Australia、 New Zealand and all European union countries
Please allow 2-6 weeks for delivery to the rest of the world
Our gurantee
Tracking number for every order
Sale payments via paypal and stripe
24/7 assistance shop beautifulyou886@gmail.com
No hidden fees