To be a sophisticated beauty-loving girl, still need makeup brushes to apply makeup! Some ladies buy a whole set of makeup brushes but don't know the purpose of each brush. How to choose and use a makeup brush? Next, we will tell you about the various makeup brush uses guide.
Figuring out which makeup brush is more suitable for us is a confusing thing. A set of beautiful, easy-to-use makeup brushes at an affordable price is a good investment. If you don't know how to choose the most suitable makeup brush, then look no further Please, this set of make up brushes are for sale now, whether you are looking for a cheap brush set, or a professional set, this set of the highest rated affordable professional makeup brushes is definitely worth buying.
This professional makeup brush set sale covers 18 brushes for eyeshadow, crease shadow, concealer, blush, foundation, pressed or loose powder, highlighter and brow. Ideal for daily makeup application, blending, easy and convenient.
The price of this makeup brush set is under $150, made of high-quality synthetic fibers. The handle of the makeup brush is made of high-end alloy and wood material. The bristles are made of soft and silky nylon that are fine and thick, making them suitable for sensitive skin. It can ensure the service life of the makeup brush. This set of brushes makeup has 18 brushes in a stylish and elegant champagne gold color and is a must have in your makeup bag.
This set of make up brushes set on sale now is a great gift idea for makeup beginners, the make up brush full set is easy to use and high quality, affordable and complete in variety. Ideal gift for mom, wife, girlfriend.
Different brands have different advantages and disadvantages, the quality of makeup brushes of different brands is also different, and the prices of makeup brushes sale are also inconsistent. But a good start is the most correct choice. Zoe, the founder of Zoeva, said that if the tip of the brush feels rough, and each bristle is thick and blunt, it must have been tied together with a rope in a specific mold, and the handle is coated with multiple layers of paint. detail brush, a thick coat of paint prevents the handle from swelling in humid air. Makeup brushes with weighted handles allow for more leverage and control, so are better for novices.
Makeup brush material.
After all, it is a product used on the face, so we have to understand the material for makeup brushes! Generally speaking, makeup brush bristles can be divided into animal and synthetic bristles. Animal hair is more delicate and soft than man-made fiber hair, it grips the powder loosely, easy to grasp when applying color, and is conducive to achieving a natural makeup effect! Goat hair is more common, the softness of horse hair is relatively good, but the elasticity is poor, also useful mink hair and squirrel hair, but the price is expensive.
The hand-made fiber makeup brush is specially treated electrified, more flat, grip powder power and smudging power is not as good as animal hair, and the price is more affordable.
 The biggest advantage of hand-made fiber makeup brush is not afraid of water and grease, but also more resistant to washing, hand-made fibers than animal hair is less likely to be damaged, the brush life is longer, animal hair and artificial hair is not absolutely who is good who is bad, the pursuit of professional makeup, animal hair is more suitable.
Loose powder brush: loose texture, more solid, the right amount of grip powder makeup brush, dipped in loose powder, using a beveled brush on a large area of the face color, from the cheeks in the direction of the surrounding gently pushed away sweep, so that the loose powder covers the whole face, so more quickly and completely to the face on the powder, sweep to fix the effect, save time on the makeup.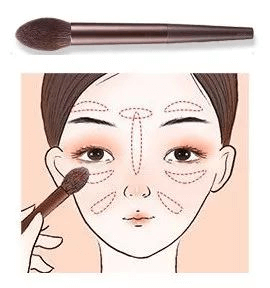 Highlight brush: soft border, fire type, a bit like a drip-like brush head, so that it can be more convenient to use, using the best highlighter brush head dipped in the right amount of highlighting color, pay attention to the need for a lighter touch, brush highlighting on the part of the face that needs to use highlighting, so that it can make the highlighting more focused sense, and make the overall sense of three-dimensional more prominent, the contour also looks more clear. It also makes the overall three-dimensional sense more prominent and the contours look more distinct. Highlights & shadows are used to create a three-dimensional look on the face, for example, to make your face look smaller and your nose look more upright.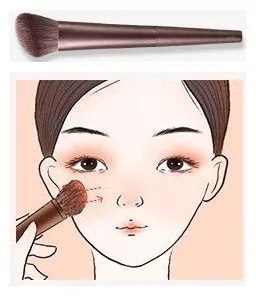 Blush makeup brush: its bristles are more solid, slant-headed brush head design, more fluffy, dipped in the right amount of blush powder, in the cheekbone protruding position on the makeup, can create a red cheeks, very airy sense of vitality girl makeup, in addition, brush and blush can also be used on the face contour, to help create a more distinct three-dimensional face contour.
The blush brush can also be used as a Foundation Brush. It has a large area of use and coverage, so it can sweep the blind areas that are not covered by makeup, so it requires a lot of makeup bristles. If you use your fingers to apply makeup, you won't have this effect.
Makeup and brush set: 18 makeup brush tool for eye shadow, crease, concealer, blush, foundation, powder or loose powder, highlighter and eyebrows. Suitable for applying, blending and shading products. Convenient for daily makeup use.

Recommended use of the product:

Eyeliner, Eyeshadow, Concealer, Foundation, Eyebrow, Highlighter
Material characteristics:Wood handle synthetic brush hair with black case.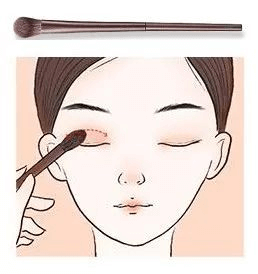 Eyeshadow brush: the brush head contour is more rounded, smooth and fluffy, take the right amount of eyeshadow in the beveled position of the brush head, in the bottom of the eye makeup makeup, gently sweep away extended to the eye socket, and especially suitable for swollen eyes type use, play smudge eyeshadow color, make eye makeup more net transparent and very three-dimensional feeling.
The eye makeup brushes are generally 2 to 3 pieces that I use with the eye shadow palette without color, and then wash them afterwards. Never use your fingers to draw eyeshadow, to draw a superimposed three-dimensional feeling, angled eyeshadow brush is the best tool.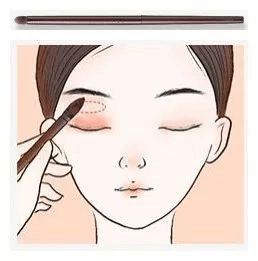 Smudge brush: eye smudger brush is relatively small compared to eyeliner smudge brush, is also and face type brush head, soft border is suitable for eye shadow smudge use, in the corner of the eye place many times back and forth light force sweep, so that can make eye shadow parts of the smudge color to get natural transition effect, easy to create a more distinct level, eye makeup makeup effect will look like the effect of larger eyes.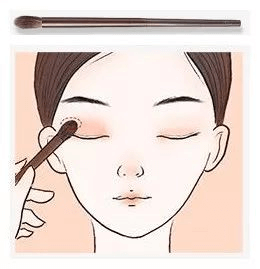 Eye socket brush: the brush head is cylindrical shape, a little rounded sharpness, but in the eye socket on the eye shadow color is very good, orbital brush dipped in an appropriate amount of dark eyeshadow in the eye socket dotted, back and forth sweep, so as to outline the eye socket, to create a deeper eye socket, in addition to use in the brush eye socket, but also as a nose shadow brush, the It can also be used as a nose brush to create a straight, high nose bridge visualization. The natural material of eye makeup brushes can make eye makeup have a better look.
High-quality synthetic fibers: The handles of professional makeup artist tools are made of high-end alloy and wood materials. The bristles are made of soft and silky nylon to ensure long-lasting use. All brushes are fine and dense and are suitable for sensitive skin.
The brow brush is a must, even if you don't have time for makeup, but you must remember to draw eyebrows, a best eyebrow brush can help you save more time. eyebrow brush is usually angled down, it can easily help you outline the eyebrow shape, but also not with too heavy makeup. I myself will first outline the shape of the eyebrow, and then use eyebrow tint brush to spread the color, and then use the eyebrow brush to make up for the shape once, and draw a sense of transition shades can be.
Lipstick brush: You can't just wipe your lipstick on your mouth and call it a day. Over time you will find that the lipstick drawn that way has no shape, and the lipstick will spill over the edge of the lip a lot. lip color brush can be used to spread the lipstick evenly and outline the lip shape.
Fashionable design: 18 all makeup tools are fashionable, in a popular and elegant champagne gold color, a must-have in your makeup bag.
Beautygift: Ideal for makeup beginners and lovers because cosmetic tools are easy to use, excellent quality, affordable and have a wide variety of products to keep you looking good. Ideal gift for mom, wife, and female friends.
Foundation Brush Foundation Brush
Because foundation is liquid, you need a brush that can spread it evenly. Natural bristle brush material, easy to make the foundation does not fit unevenly, so choose a synthetic bristle material
Flat concealer brush
The concealer product is also liquid, so you should also buy one with artificial bristles.
The nose shadow brush is used to create a three-dimensional nose and is used by professional makeup artists.
Shadow brush:European and American makeup is often used to draw shadows to create a sense of overall contour three-dimensional. It is best to choose a brush with a certain slope, more convenient to spread the shadow, rather than a bunch of "paint" in the face.
Fan brush makeup:It is characterized by a very thin, tough, can remove excess loose powder, eye shadow powder on the face.
Flat head brush: suitable for thin texture of foundation, such as foundation, water powder cream, makeup feeling light and breathable, super coverage, flat head makeup brush can avoid the minefield of uneven makeup on the hands of beauty eggs or use.
 The round head makeup brush: suitable with the use of foundation texture thick foundation, such as foundation cream, foundation cream, etc.. The technique of using the round head foundation brush is usually to apply it from the middle outward in a circular motion~.
Flat head makeup brush: Suitable for use with thicker foundations and creams, for a smooth, flawless finish. The brush head is dense and tough, and the speed of makeup application is relatively fast. flat head foundation brush should be applied with the handle perpendicular to the face, quickly and gently panning, otherwise it is easy to be uneven. This brush head is not suitable for circling, it is best to follow the skin texture to push away, better fit ~.
The rare beauty concealer brush is used to conceal blemishes and pimple marks on the face, dabbing concealer and smudging it, and finally blending it perfectly with the foundation.
The best way to clean makeup brushes
If you don't clean your brushes in time, it's easy for bacteria to grow, and brushing them on your face may grow closed mouth pimples. Also, too much powder and color left on the brush will affect the effect of makeup, so we need to get into the habit of cleaning Makeup brushes regularly!
If you choose animal hair brushes, it is best to use some natural ingredients of professional brush washing liquid. When cleaning remember to smooth with the flow of hair, do not crazy vigorous cleaning, otherwise it will reduce the life of the brush, and finally put in a cool place to dry naturally.
Free shipping worldwide
Please allow 2-4 weeks for delivery to the United states 、Canada、 United kingdom、Australia、 New Zealand and all European union countries
Please allow 2-6 weeks for delivery to the rest of the world
Our gurantee
Tracking number for every order
Sale payments via paypal and stripe
24/7 assistance shop beautifulyou886@gmail.com
No hidden fees
HIGH DEMAND- Most orders arrive in 10 to 18 business days.

SATISFACTION GUARANTEED- If something is wrong with your order, you can quickly contact our helpful customer support team to get a refund. 

Available online only. We ship Worldwide!